2023, the year of the rabbit. This has gotten me thinking of Aesop's fable, of the hare and the tortoise. The hare is out of the gate quick! The tortoise is moving along – slow and steady. When it comes to content strategy for marketing your business, which is the best approach? And what to do with all of your content? What is popular and what are the possibilities in 2023? Should you approach your content strategy like the hare or the tortoise?
There are more ways than ever to present your company. Below we will explore some of the top trends this year. But before you start off like the hare, showing everyone how fast you can "hop to it", let's look at why a slower and more steady approach just might make you the winner.
Content is critical to building and growing your brand. Content marketing;
Establishes you as the authority, if done appropriately.

Builds a rapport and trust with your existing and desired customers.

Allows you to speak to people, not at them.

Helps you generate leads and broaden your reach in ways you may not have expected.

Enables you to build your market share and grow your business.
To reap all these benefits, however, you must first have a sound understanding of who you are, as well as who your customers are – or who you would like them to be. Content that is not consistent, not well researched, or that is quickly thrown together and posted higgledy-piggledy in an effort to get to the finish line first, will likely not win the day. Let's then look at some of the what and the how in 2023, to get your business into the race.
Content that is client/customer focused.
The sign screams, "ONE SIZE FITS ALL"! Do you pause and look over what is on the rack, or keep moving? Let's face it, there is a tremendous amount of content out there. Much of it is like the clothes on that rack, generic and mass-produced. Not worth even a second glance. Yes, it might have some redeeming value – maybe, but more than likely, it is not worth your time.
According to a recent survey by SuperOffice, the TOP priority for businesses in the next five years is CX, and 86% of buyers are willing to pay more for a great customer experience.
Customers want content that has value to them. We talk about this a lot around here. How well do you know your customers? Have you sorted out who they are, what they want, and what keeps them returning? Have you moved them from being "interested" to "enthused"?
To take care of your customers, to make them enthusiasts, take the time to;
Work as a team to define your customer personas.
Use data from polls, feedback forms, and interviews to capture information and gain insights.
Use a connected and intelligent CRM to find out where and what people find engaging.
And then use this information to build a dialed-in content strategy that is of value, and that will keep them coming back for more.
Spend time to find out not only "what" your customers want, but also "where" they are going to find it.
HOW are you communicating?
It's 2023, not only the "what" matters, but also the "how". Gone are the days when you could scrape by with a clunky, outdated website and hope to build your customer base and enthusiasm. Your content must be relevant, and high quality, and consistent, and focused… that is a lot of ANDS! But it also must be highly accessible.
A website that is well thought out, easy to navigate, and fast – clean CSS.
A website that has exceptional mobile capabilities.
Content that is personalized for your customers.
An integrated CRM.
Chatbots... (more about that later).
Not sure what this means? Perhaps it is best to bring in an expert with an eye for all things digital, who can work with you to understand where you are trying to go and get you there efficiently and effectively through a well-developed and often utilized process.
In 2023, your website is not the only tool you should have in your arsenal. In addition to a well designed and developed website, consider the following;
Social Media

(of course, on the proper channels)

.
QR Codes

– yes, they are still a thing and being used more creatively than ever before.

Gaming – an option that more and more companies are utilizing to complete their omni channel plan.
Webinars.

Podcasts ­– Did you know the

Swedish

rank highest on the list of podcast listeners?
Artificial Intelligence
In 2023 it is hard to go through the day without hearing or reading about artificial intelligence. Recent statistics suggest that not only are two-thirds of consumers open to using AI if it helps boost their engagement, but a whopping 26% say they interact with some form of artificial intelligence daily.
AI in the healthcare domain continues to expand as the power of its use becomes increasingly clear. From faster and more accurate diagnoses, to the use of AI-assisted robotics – often resulting in less risk and shorter patient recovery times, as well as expanded uses in drug discovery and genomics, all indications point to AI in healthcare being an explosive multibillion-dollar global industry.
AI is being used more widely with each passing week, it would seem. Autonomous vehicles are in production and on the roads. Voice assistants are now common in homes. The use of AI in image and text generation has become a topic of daily discussion. And the use of chatbots has not only increased exponentially, but indications are that users favor their service and their ability to quickly and efficiently automate customer experiences on websites.
For companies looking for an omni channel approach to content marketing, AI should undoubtedly be on the radar.
Videos
Videos are BIG in 2023. They can provide excellent value to one's content stream if properly executed. They are a very versatile format which can include;
Data and other relevant information.
Graphs and charts.
Speech, music, and sound – or simply subtitles.
Live shots or animation.
According to Wyzowl, 91% of businesses will use video as a marketing tool in 2023. And of those who aren't using videos, 70% plan to start in 2023.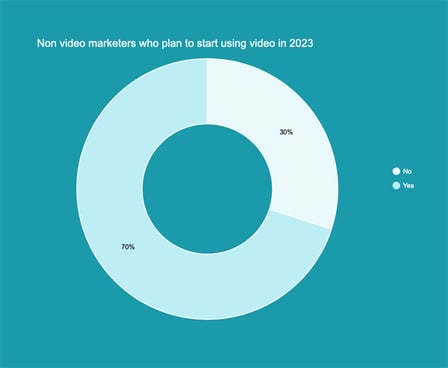 Image courtesy of Wyzowl
Not surprisingly, YouTube comes in at the top of the rankings as the most used channel by companies, as well as the most effective video marketing channel. A full 89% of people say that watching a video has convinced them to buy a product or service, and 91% say they want to see more videos from brands in 2023.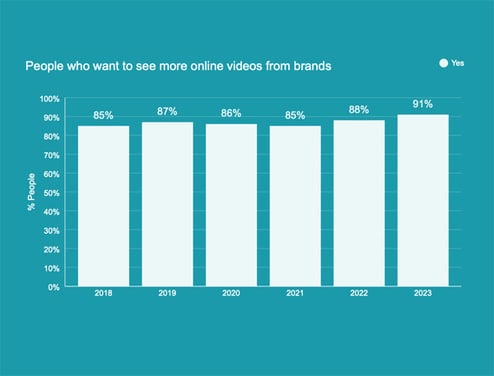 Image courtesy of Wyzowl
White papers, e-books, and case studies
Well researched and well written content never goes out of style. If you look at content available today, even within your own specialty, you have undoubtedly come across things that are subpar.
Revisit your content strategy with an eye towards what is new, what is interesting and what is relevant in your industry and to your audience. Put together a comprehensive strategy and content calendar that will carry you and your business forward throughout the year. Take the time to do the background research, perhaps interview others who are also experts, and write content that can be published in industry journals, publications or on your, or other trade websites. White papers continue to be used by B2B companies, as it allows one the ability to showcase expertise, to build recognition as an expert in the field, as well as to engage the audience.
White papers can also be shared across social media channels, or even linked to in an email signature, again building the omni channel approach. As always, as part of your planning process, ensure that your content is focused, engaging and most importantly, helps to ease the pain points of your customers. Real value is, as with all of your content – key.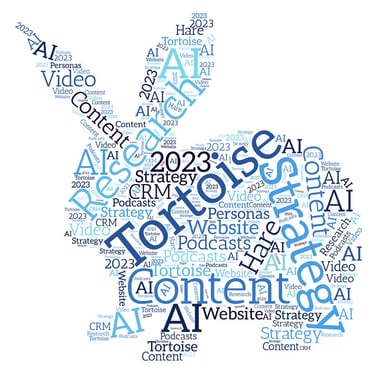 What can we learn about content and strategy from the hare and the tortoise, in the year of the rabbit? Approach content in a systematic way with a plan at hand. Know your strengths and weaknesses. Focus on your strengths and present this content in formats, and on channels that highlight them. Be like the hare and learn from those things that perhaps didn't go as planned previously. Understand the changes in the content strategy "race course" and choose NOT to ignore them. Lean into your future, with discipline and knowledge and strategy.
Steady, consistent, persistent – we will be at the finish line, watching you come in with a win.
Learn more about content marketing here.