At UP THERE, EVERYWHERE we've been working for several months now on a new brand strategy and identity for Airport City Stockholm. We launched it last week at a real estate event called Business Arena in Stockholm, at the Water Front Arena.
Traditionally airports were seen as a gateway for the transportation of people and goods from one city, region or country to another. This definition is now giving way to a much wider concept of the airport, and the businesses and communities that surround it, as a destination in their own right.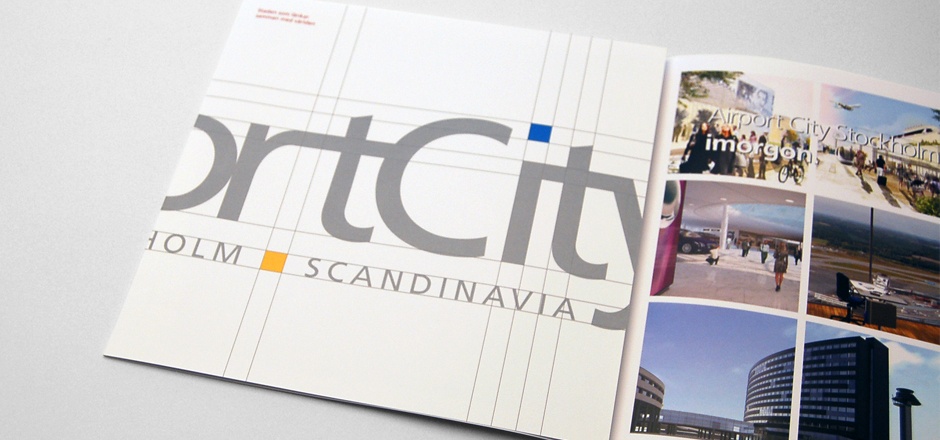 Over the past several years airport cities have been developing around the world as powerful economic commercial hubs. A number of international airport cities are already well established around the world such as Frankfurt, Hong Kong and Amsterdam's Schiphol. Frankfurt for example already has 500 companies established at the airport complex employing some 70,000 people and is further developing their site with facilities encompassing retail, commercial offices, cargo, entertainment as well as hotel and conferencing to name a few.
These modern multimodal transport hubs are paving the way for similar developments and as airport cities grow around the world, finding a focus will become increasingly important in order to establish a true competitive edge and positioning.
Over several months UP THERE, EVERYWHERE conducted interviews and workshops that enabled us to develop a brand strategy for Airport City Stockholm that we believe fits perfectly with the regions natural strengths and the unique advantages we have to offer.
A focus on sustainability.
Understanding and caring for the environment as well as developing sustainable industries is a critical issue facing all nations today. Stockholm and Sweden already have an impressive record in this area and the region is one of the most knowledge intensive and innovative in the world.
The vision for the future with the development of Airport City Stockholm would see the current employment base grow from approximately 20,000 jobs up to 50,000 jobs within the next ten years. The development area covers over 800 hectares of land which is owned by the three partners behind the development of Airport City Stockholm; Swedavia, Sigtuna Kommun and Arlandastad Holding.
The project was run with a truly international group from UP THERE, EVERYWHERE and a lot of hard work. I'm really proud of the whole team.