SWC Partnership, part of the UP GROUP, is thrilled to announce that it has been awarded The Sunday Times Best Places to Work and has secured a place in the top 10 for the SME category. This achievement highlights the agency's commitment to wellbeing, empowerment, and instilling pride in the workplace. In partnership with WorkL, The Sunday Times conducted an employee engagement survey to gain fresh insights into what makes a workplace the best place to go to work.
In February 2023, UP THERE, EVERYWHERE acquired SWC Partnership based on its exceptional work and the strong alignment of culture and values with UP. Julian Stubbs, Co-founder and Chairman of UP THERE, EVERYWHERE, expressed his pride with the recognition from The Sunday Times, affirming his belief in SWC's values and work ethic;
"When we acquired SWC it was because they do brilliant work for their clients, and the chemistry and values felt so similar to our own. Receiving this recognition from The Sunday Times confirms what we felt about their values and how they work."
Stef Garner, Account Director and Head of Culture at SWC, added;
"We've always been focused on creating great work, in a great place to work, at SWC... it's what gets us out of bed and turning up with a smile each morning. Our mantra 'live, learn, evolve' is in our DNA and has been even more important during our growth period – it's our unique spark that sets us apart from other agencies! I'm very proud of our dream team and to have been recognized by The Sunday Times. What an achievement!"
Here is an in-depth look into a few SWC workplace attributes;
WELLBEING
One SWC mantra is; 'Work Smarter, Not Harder'. It's about making the best use of the time you have available. If you're working flat out for 12 hours straight, chances are you'll be knackered the day after, and only get half a day's actual work done. Much better, therefore, to get in on time, take a decent lunch break (away from your desk!) and get home on time for supper both days, and get the same amount of work done.
"There's an awful lot of talk about wellbeing in the workplace, the importance of having a work-life balance and the impact this can all have on your mental health. It's come as a great relief, therefore, that SWC's approach to its teams' mental health is not just talk but backed up with actual actions."
Read more here.

EMPOWERMENT
We all want autonomy – to be trusted and empowered to crack on with our work and do a great job. To be part of a company where you feel valued, and can make and influence day-to-day decisions, and create and act on new opportunities – that's the dream, right? When the SWC team was asked to complete the Sunday Times Best Places to Work survey, powered by WorkL, towards the end of last year, they all answered honestly about the company we know and love, and when the results came through, we were blown away! SWC scored well over 90% across all metrics, including wellbeing, instilling pride and job satisfaction.
'Employee empowerment' means delegating authority and giving workers autonomy to make decisions and have influence within their roles. Find out how SWC does this here.
INSTILLING PRIDE
We all want to feel proud of what we do, the teams we collaborate with, and the companies we work for. But what do you need to instill pride within your organization?
Instilling pride is another area used to measure companies as part of the survey for The Sunday Times Best Places to Work 2023' list. The team was asked a range of questions about how they feel about working at SWC, including the impact on their wellbeing and happiness, how well information is shared, rewards and recognition, and how satisfied they feel in their roles.
SWC scored an incredible 97% for Instilling Pride, with staff strongly agreeing that they felt proud to work for SWC and did something worthwhile. Results also showed that the team overwhelmingly agreed that they would recommend their friend and family to work for SWC, scoring an almost perfect 99%.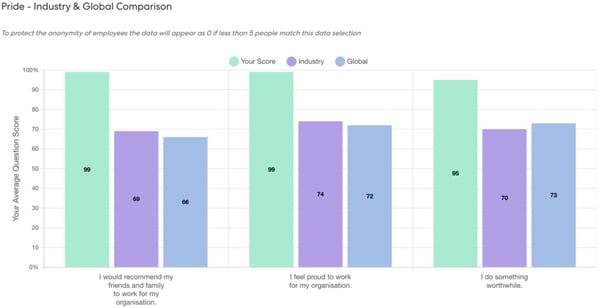 SWC's results for instilling pride, benchmarked against industry and global averages
Learn more about how UP THERE, EVERYWHERE works here!