When it comes to marketing, it's easy to assume that being loud and busy wins. If you're unavoidable, you're unstoppable. While there is something in that, it requires resources, planning and budget. It also needs a harmonized approach to cross-functional teams. And let's face it, we're not all at that level, especially at present time.
So, what can you do? And, how can you maximize your voice when you don't have the resources? It's time to examine: why back to basics marketing trumps an everything, everywhere attitude!
A clear marketing plan is your superpower
Knowing exactly where you stand, what you want to achieve, and how to bridge the gap between them, is the first step. Most of the time though, a clear marketing plan gets forgotten or ignored because it can take time.
How to go back to basics with your marketing plan
By setting aside time to work on this, you're doing yourself and your business a huge service. Although there are many jobs to get done, it comes down to time management and prioritization.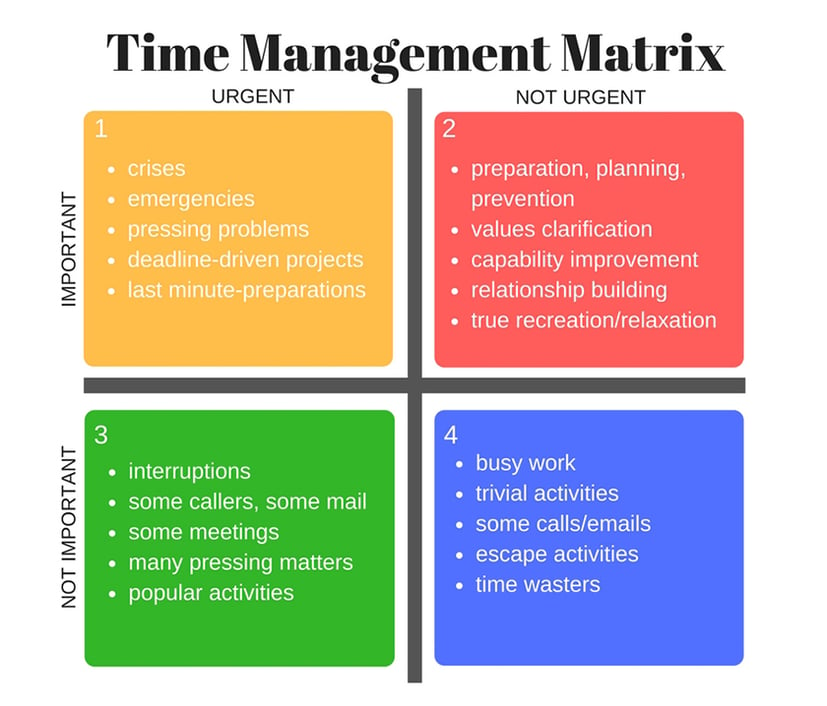 If you don't have a marketing plan, there's a good case for assigning it to Q1: Important and Urgent. If it needs updating, we'd still recommend Q1 but it's less urgent depending on the content.
On the whole, it's important to remember that your marketing plan should drive everything you do. It sets what success looks like, how to measure it and how to get there, therefore what activities to focus on.
How your personas impact your focus
By knowing about your ideal customer you're in a stronger position to design your brand identity. This informs everything from the colors you use, to tone of voice, your digital focus and so much more.
Combining your marketing plan and your personas, your strategy should be solid. Your marketing plan sets out what to do, but your personas provide that crucial customer lens.
This unique insight comes from your campaigns, social media and feedback. From here, you can make educated decisions about where where to focus your time. You can even specify things like social media channels and content types.
Your website is the centre of your business
It seems so obvious to even write, yet there are still many websites that don't pull their weight. These days, having a clear digital strategy is crucial to the success of most companies. Of course, there will be some exceptions, but generally it's common sense.
It used to be that websites were the shop window to your business. It has developed a lot over the past few years. Now your website can be your best performing salesperson, who is there for your customers 24/7, year round.
Stripping your website back to the basics: what is your user journey?
By having a clear idea of what you want visitors to do on your website, you can set goals. You can also tailor the flow and type of content you produce. It also enables you to design your KPIs and track the success of your website.
Is it time to update your website?
To make sure you're operating a well-oiled machine, there are three core areas to assess:
web traffic
user journey
user experience
If you're getting good quality traffic and converting leads, your website is likely to be in good condition. If you're struggling with high bounce rates and low conversions, it's time to consider upgrading.
A simple website structure with a proper content strategy is the best way to helping you stay on track and maintain your website. By knowing exactly what's where and how it flows together into a journey makes all the difference.
Social media: and why you don't need to be everything to everyone
Here's the main culprit for an everything, everywhere attitude. And possibly the easiest one to remedy. There are a few things to think about:
do you have the resource to consistently post on all the channels you're using?
is your content resonating across all platforms? (e.g. post engagement, web traffic)
are you reaching your personas?
Of course, you might answer 'yes' to some or all and still need to strip back to basic marketing for social media. Make sure you're reflecting your social media strategy and tracking your performance.
We often say to clients that it's better to serve one social media channel well, than many subpar. What we mean by this is not only posting content, but engaging with your community. That could be through user generated content, responding to comments, customer service enquiries.
Quick wins: PPC
When you have the basics covered running properly planned PPC campaigns are ideal. But did you know Google grades your quality score on the quality of your landing page?
That means it's crucial to have your website content in good condition first.
Quality score
This metric often confuses marketers are it's not quite as cut and dry as the rest. Google essentially scores your ad content and how relevant it appears to be based on your CTR and landing page experience. According to Search Engine Journal: Google improved how Quality Score is reported in Google Ads in 2017, but it still comes down to this simple fact:- A good Quality Score (between 7 and 10) means you pay less money to advertise with Google Ads.- A bad Quality Score (6 or lower) means you pay more money.
Need help?
It may seem a strange concept to want help in stripping back to basic marketing. You might even still feel resistant to the idea of simplifying things. Much like how a fresh pair of eyes often solves a Word Search, they can also help pinpoint what needs to change.
Whether you need a spare pair of eyes, extra resource or someone with a very specific set of skills (sorry, Liam Neeson's all booked up), we can help! Reach out and we will be in touch for a chat.