Follow your intuition! This is a very good rule – in life and in business – except when it isn't. 2023 – yep, hard to believe, it is almost 2023. And this year, "Auld lang syne" may be a better place to look than our trusted intuition.

High inflation, weak currencies, negative GDP…and have you looked at what the price of copper is doing? Yes, those gray bits do indicate recessions. Clever of you to notice.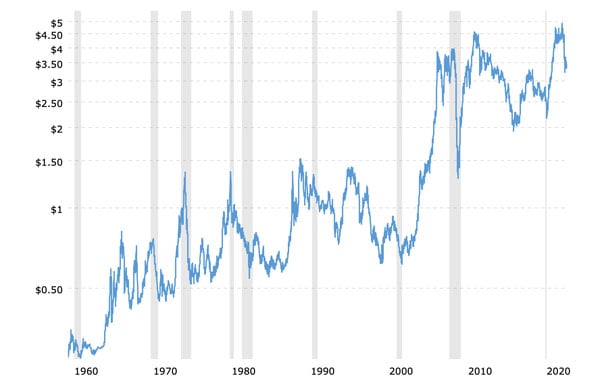 Image Courtesy of Macrotrends
So, we decidedly do NOT need our intuition to consider that the world just might be in for "a bit" - (trying to be optimistic ) – of economic woe. And as a responsible person, dedicated to the well-being of your company, your intuition tells you to what? CUT THE MARKETING BUDGET! And in your defense, that is certainly a better proposition than putting people out of work.
But history indicates, that cutting your marketing budget will ultimately leave you at a disadvantage. This graphic is an oldie, but one I keep going back to as it still holds true more than a decade later. The good news is, even since the last update of this graphic in 2009, the ways you can do your marketing have changed significantly. Gone are the days when you were limited to;
radio
television
print media
billboards
Today, there are so many options, that it is difficult to keep up with them. Do you have an inbound strategy and plan? If not, now might be the perfect time to get one up and running.
5 recession-proof inbound marketing ideas
Here are 5 ways you can use inbound to help you keep up with your marketing plan, and perhaps even save you time and money.
Put renewed effort into your blogs
Gather your testimonials and turn them into content
Produce some step-by-step tutorials
Put together a few videos and e-books
Whitepapers
Put renewed effort into your blogs
You do have a blog on your website – right? If you don't, you should. Blogs are the world's window to your company. A good blog, with interesting content, and fresh ideas will not only keep your brand in the forefront of people's minds, it will also keep them coming back for more. There are so many ways to showcase your company through blogs:
Educate your audience about your company and your products or services.
Provide knowledge that shows you are an industry expert.
Give insight into the inner workings of your operation.
Showcase your products.
Offer solutions.
Any way you cut it, a blog is a great way to go. And you don't always need to start over from the beginning. Have you recently updated a product or a service that you blogged about years ago? Go back and dust off that blog, breathe some new life into it, and run with it again.
Gather your testimonials and turn them into content
Business slowing? Turn your lemons into lemonade. Refocus on taking all those testimonials that you haven't had time to do anything with and put them in a format that works as part of your inbound marketing plan. Turn them into:
A slideshow on your website.
A flipbook.
Video testimonials.
Supportive content to refresh an existing blog.
Testimonials are a highly relevant way to show "social proof" and to let potential customers know exactly why your customers chose you. It is also a good way to let current customers know you haven't forgotten about them.
Produce step-by-step tutorials
'How-to' information is always a great way to go. If you are selling a product, tell your audience something that they may not know about it. Do a poll and ask people what they would like to know and build content around that. You might be surprised at the things that you believe are obvious that customers and potential customers don't know or haven't thought about when it comes to your product. (Example below).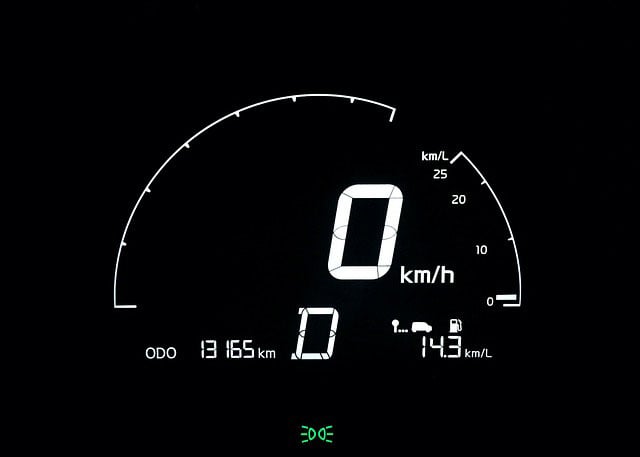 Tip: If you are in a rental car and need to refuel, but don't know which side the filler is on, look at your instrument cluster. The side the pump handle is on, in the icon - (right side in the image above), is the side your fuel filler door is on. *Most automotive engineers believe this to be common knowledge.


Do you provide a service? Offer some tips that will bring people back to you and your company, because they want to know more. Offer educational content that explains a specific element or idea that showcases what, how or why you do something. People are drawn to things that intrigue them. Get creative – there are lots of ways to do things without spending what few marketing dollars you have available in the coming months.
Videos and e-books
"Do I really need video?" you ask. Yes. According to Explain Ninja almost 93% of brands say that new customers were a result of videos posted on their social media. And that 66% of people would prefer to watch a short video to learn about a product or video rather than read an article, website, or post. Think of videos and other digital interactive elements as your "elevator pitch" to the world. If they are informative, accurate, and well done, the ROI might just surpass your wildest dreams.
It would also be wise to add podcasts and anything interactive to this. These things may take a bit more time and effort, but they are great to use as part of your inbound content. You can create simple videos and ebooks yourself using Powerpoint or tools like Canva. (Just be sure you follow consistent brand guidelines and style). Of course, if you need help, you can always reach out to a professional.
Whitepapers
Thought leadership articles are a must if you want to be recognized as a leader in your sphere of the world. What do you excel at, or what do you want people to know you excel at when the world comes out of the economic dip? Part of your inbound plan should include some really well-researched and well-written whitepapers to publish on your site, or in sector publications.
Another great thing about this sort of content is it can be used as lead magnets. If you put it behind a form on your website, you capture email addresses of people who are interested in what you do. So how do you get started? Here are a few tips:
Find a topic that is relevant to your expertise.
Know who your audience is, or again, who you would like them to be.
Do your research – this is not the place to skimp!
Create your outline, decide on a tone, and write away.
Keep your marketing fires burning
One thing you can't do as a business, is stop a recession from happening. But what you can do when a recession hits is to renew your focus on strategies such as inbound marketing, and create marketing content that will continue to engage your audience and create enthusiasm around your products and services. If you spend your time during a downturn building a solid base, imagine the boom that will result in the next upturn. And yes, the upturn will come.
Get our free inbound marketing guide