If you ever wondered what the formula for a great customer centric experience looked like, you might have considered studying some of the best examples. Being a judge at the UK's Customer Experience Awards (CXA'19) gave me first-person insights into what experts in the field of customer experience consider to be the best practices.
For me, as a member of the UP financial services team in the UK, judging the CXA'19 was a fabulous professional opportunity to clarify my definition of what customer-centric practices look like. I heard brilliant, inspiring stories of data-supported customer experience improvement in the financial services industry.
Now, I'm sharing what I learned with you. I'll explain what goes into judging awards like this and provide some tips about how leading brands are meeting the challenges in marketing of financial servicesto drive their business and win awards.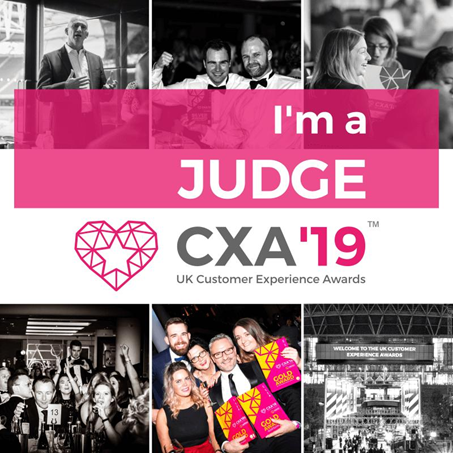 How I got involved
The invitation to judge came in August for an event in October, and at first I did not know the category I would be judging, who the entrants were or who my fellow judges would be. My interest is very much in Customer Centricity and I have expertise in financial services having worked in senior positions at Barclays, and having consulted for many financial services businesses including Aldermore, Zurich and Aviva. Also, over the past few years I have worked as COO for a start-up fintech digital mortgage provider, and am currently a member of UP There, Everywhere working as a planner and strategist. So it was no surprise when I was selected to judge Customer Centric Culture in Financial Services.
In meeting the challenges of marketing financial services, I have found that customer centric experience is a critical discriminator that allows financial services communications to be distinctive and grounded.
The judging process
The first step of the judging process for the category I was assigned involved reviewing, scoring and commenting on written submissions. This was quite an undertaking as there were 6 category entrants and the lengthy and detailed submissions are scored individually on 9 parameters. This is done by each judge privately with no discussion or sharing of the assessment.
One immediate issue was to define in my own mind what is meant by Customer Centricity, which for me is a more fundamental and all-encompassing category than Customer Experience. Typically, Customer Experience is shorthand for operational customer service initiatives that may not involve the whole business.
Customer Centricity implies that the whole business is focused and organised around delivering customer value, which will of course include excellent customer service but will go deeper as an executive led business strategy and include everyone in the business working cross functionally. For example, the proposition will be engineered through co-creation to explicitly meet customer needs, finance will be working on customer friendly pricing, marketing will develop authentic and deeply empathetic messaging with the aim of extending customer lifetime value and increasing ROI.
Against this definition, I read the entries to score each element in a consistent manner, taking detailed notes so that I could justify my scoring. It took at least one hour per entry to complete.
How to be a front runner
At this stage and against my definition of Customer Centricity, there already seemed to be clear front-runners. Some entries lacked a clear cohesive story supported by meaningful data or were too focused on specific limited initiatives rather than an all-encompassing business culture focused on the customer. The scoring grid asked about very specific elements such as the business objectives, impact and benefits, innovation and creativity -- corresponding to the sections of the written entry. Each was scored out of 100. I would say as a judge that writing clearly and telling a single-minded story that is well evidenced by facts while being honest about the challenges is a big advantage. As I read, I noted down questions that I would be asking in the face-to-face presentations on award day.
How to deliver winning customer centric presentations
Read 5 steps toward a customer-centric experience.
The format for awards day required each team to present for 15 minutes followed by judges' questions for 15 minutes, after which the presentation was scored using a similar approach to the written entries. So, each section is scored by each judge individually with no conferring. Unlike a jury trial where the evidence is discussed and a consensus reached, we actually do not know who is going to win as the award is based on the privately delivered aggregate of the individual scores across the two stages. This also makes it completely fair – there is no bias!
In my mind, the front runners were Direct Line Group and they were up first. They talked about Customer as Mission in the corporate strategy and linked this clearly to Customer Experience pillars, operational training and customer feedback. This demonstrated to me that the organisation as a whole was involved in the transformation and culture change – demonstrating Customer Centricity, and that this was more than a Customer Experience initiative. The presentation was supported by clear charts and data and importantly showed new material rather than a straight rehash of the written submission. The presentation team were very good in the question session, and just as well as I asked a very pointed question: If your NPS scores have increased so strongly, why are your Trustpilot rating and reviews so poor? The Trustpilot score is public information that I had looked up rather than being part of the presented data, but the answer was solid and convincing.
Later we heard from Ageas Insurance who presented the work that they have done to "Make Insurance Easy" through a company-wide programme transforming delivery around the customer with a clear bottom line benefit. The most extraordinarily brave thing they did was to remove operational targets – that's culture change. The Aegeas presentation covered different ground to the written submission, clarified a number of points, and was very convincing.
Sadly, Pension Bee dropped out of their presentation slot. I was sad about this as being a relative newcomer there would have been the opportunity to see what a business designed from the ground up around the customer could achieve. I would urge Fintechs and neo-banks to enter next year to set the cat among the pigeons.
The final presentation was from VitalityHealth who presented an on-brand energised and engaged performance that lifted the energy levels of the exhausted judges. In fact, I started taking note of the skilled approach to presenting to use in my own work. Vitality has generated a huge shift in culture and can claim to be one of the biggest success stories in UK insurance. The transformation from PruHealth involved the whole business in a series of changes over a number of years and clearly connected business strategy and brand to culture, process and technology. This is clearly a case of "living the brand" and customer centricity. I would have liked to see more customer involvement in the design and feedback loop and again Trustpilot scores need to improve over time.
The energy and commitment shown by the teams was extraordinary, with real commitment to improving the customer centric experience with the support of the whole business. Culture change takes time, belief and engagement from leaders, and infectious enthusiasm from staff throughout the businesses.
So, the scores went in and the judges got in a private huddle to compare notes. I was surprised there was such a high degree of consensus given our differing backgrounds.
Awards Dinner and Winners
After a quick change into Black Tie at the Premier Inn it was back to Wembley for a drinks reception and Awards dinner. This is a fabulous networking event and I was pleased to meet up with old friends and industry leaders.
I was on tenterhooks to find out who had won the award for Customer Centric Culture in Financial Services. Remember the judges don't know who has won in advance. The winners are announced from the stage and come forward to huge applause and acclaim. Worthy winners of Gold were Direct Line Group, Silver were Ageas and Bronze were Vitality Health. All three submitted solid, well-evidenced written submissions, presented well using new material and stood up to questioning.
Importantly too, all three connected customer centric experience to improvements in customer satisfaction, employee satisfaction and financial return for their business by meeting the challenges in marketing of financial services.
At some point before midnight, I emulated Cinderella and with a little help from Vitality Health in operating the elevator disappeared into the night to fly back to Greece.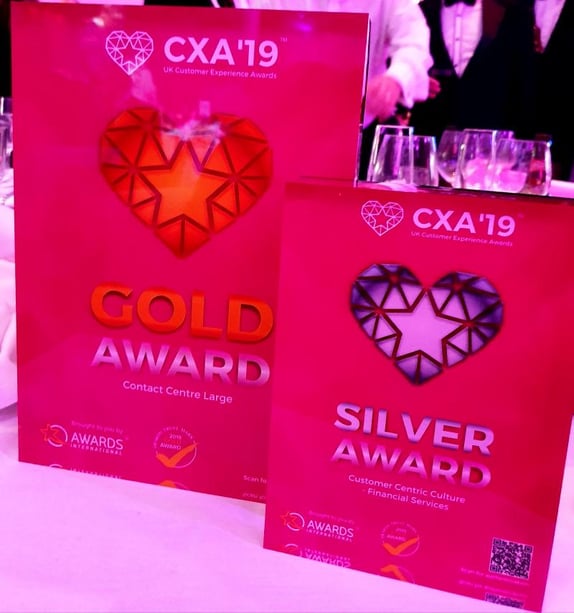 Lessons learned about Customer Centricity:
While many companies have customer experience initiatives customer centric experience is whole lot more. To be truly customer centric means aligning the whole business behind creating value for the customer. This is much more powerful in meeting the challenges in marketing of financial services, but transforms the role and culture of executives and functional specialists.
Customer centricity requires the company's top executives to believe and lead the culture change. The business will need to organize into cross-functional teams that engage with the customer to create value and challenge the status quo while ensuring a fair trade between the business and what the customer will pay for.
What gets counted gets done. Metrics are important to confirm progress and avoid complacency. Aligning standard customer experience metrics such as Net Promoter Score with revenue and profit performance ensure the board and investors can see that the transformation works in their terms. TrustPilot is often the last metric to uptick because it is used as a complaints tool by customers.
Even the award-winning customer centric businesses find it hard to involve customers on the journey but to my mind this is a vital step. There is no better way to challenge the business to create customer value than to work alongside customers to co-create and develop the solution they want.
Customer centricity provides the deep knowledge and customer empathy to look again at the brand, meet the challenges in marketing of financial services and to confidently refresh and develop truly engaging customer communication.
Read more about financial services marketing in the age of disruption.
---
Want to know more?
Got an Financial Services marketing problem that is keeping you up at night? Get in touch with our dedicated UK team here.