From fintech challenger banks like Monzo and Atom to startups like digital mortgage broker Habito, the financial services industry is experiencing a wave of innovation that is completely reshaping the way companies and customers interact. New players, innovations and technology are transforming today's marketing of financial services.
The biggest change this wave of innovation has brought is an entirely customer-centric approach – something that has not previously been easy to achieve on a large scale. Now, working with clean-sheet technologies and dynamic staff cultures, financial services brands are finally able to create personalised customer experiences. These include both purely online as well as integrated online-offline customer-centric experiences.
Becoming customer centric
Taking this customer-centric approach is critical for any financial services brand that wants to remain relevant today.
Fundamental is the realisation that the customer is your profit centre, not the product. This is because in today's world, the customer has the choice whether to spend with you or not and whether to buy from you again. In the past, the large financial services players could rely on inertia to deliver an endless payday from lengthy customer lifetime value. But no longer; switching to new fintech providers has few barriers and customers are deserting in droves. Monzo now has over 2 million customers, adding 200,000 a week and for 30% of customers it is their primary bank account.
Putting the customer first means asking the right questions to learn how customers think and determine how best to serve them. Many companies have made a start with Customer Experience (CX) initiatives delivering change into the service operation but this is not enough. Customer-centric experience means the whole organisation is focussed on the customer, not just marketing and service. That's a challenge for the culture and technology in established players.
But how can financial services brands adopt a customer-centric mindset of their own? Here are the five steps that marketers in the financial services sector need to know about:
Step 1: Customer-first thinking
Setting out with a genuine interest in solving problems for customers through a deep understanding of their needs, attitudes and behaviours comes naturally to fintechs, who can then deliver agile and personalised solutions through leading edge technology. This is much more challenging for established financial services businesses because the necessary leadership comes from the top. Customer centricity means every employee is working together for the customer, and the customer is involved in that journey. Siloed initiatives are not enough.
Step 2: Banking hard on an improved customer journey
The quality of a customer experience is defined by the customer and should be:
Useful: they deliver value for the customer by solving problems
Usable: they make it easy to find and engage with the value
Engaging: they are emotionally enjoyable so that customers want to use them
It's easy to see why rising to the customer centric experience challenge requires a strong understanding of customers and their goals and preferences at every stage of the journey. In today's world, at scale, it also requires delivering the experience with a predominantly digital focus. In both regards, financial institutions are still behind leaders in other industries—but they're moving forward in their own right.
Step 3: Inspiring customers with more engaging content
Great content is essential for any brand looking to deliver customer experiences that are both engaging and consistent. From email and social promotion to web copy and display advertising, digital content needs to be more than just functional. It needs to grab people's attention and inspire them to act, and add value beyond the transactional.
Other industries have been quick to realise this, using ambitious content programmes to grow a strong community of fans, financial services organisations are still behind in this regard. Without the right content that enables engagement with customers at each stage of their journey, companies risk missing opportunities to build relationships as they move from touchpoint to touchpoint.
Step 4: Mastering data-driven marketing and exploring AI
It's no secret that customer data is the key to delivering more impactful customer centric experiences. Nearly 40% of financial institutions say better targeting and personalisation rank among their top three priorities this year. However, many are still migrating from manual data collection to a fully digital approach. Marketing automation is naturally integrated into Fintech marketing but battles legacy infrastructure in established players.
Building on their investment in analytics, financial services institutions are also leading the way in their use of AI. More than 60% are using AI already, or plan to do so in the next 12 months. At the volume and scale that banks collect and analyse data, AI will play a growing role in helping them to crunch this information quickly and extract the insights they need.
As is often the case with major transition periods in the financial sector, legacy technologies are still holding many businesses back from achieving their ambitions. The gap between top performers and slow movers continues to widen, and tellingly the former are three times more likely to have invested in an integrated technology system.
Step 5: Upset traditional models
Fintechs have radical business models that disrupt the industry standard approaches, cutting out middlemen, making the complex simple and delivering bespoke personalised solutions with ease.
Fintech marketing is itself challenged when building a brand and innovative communication styles are used to gain cut through, both in social media and in advertising.
For example, Atom Bank used cult cartoonists Modern Toss to deliver a series of ads targeted at first-time buyers and millennials. Mark Mullen, CEO at Atom said "The guys at Modern Toss look at banking from the outside in. They tell the truth as they see it." Customer centricity enables communications that resonate.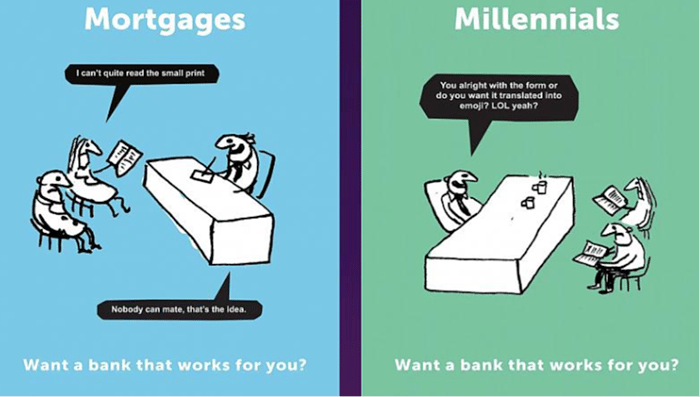 Atom Bank cartoon by Modern Toss targeted at first time home buyers and millennials.
Together, these trends reflect a commitment across the financial sector to become more customer-centric. There is much more to be done, especially in an industry where most companies need to untangle a complex web of legacy processes and contend with working cultures that have endured for decades as part of their transformation, but with the right mix of people, skills and technology the industry will transform, and is already a more exciting place to be a marketer.
Read more: 4 lessons to meet the challenges of marketing financial services in the age of disruption
---
Judging UK Customer Experience Awards
Proof that a customer-first approach is becoming more important can be seen at the UK Customer Experience Awards in which UP Member and blog author Chris Little was a judge for the "Customer Centricity in Financial Services" category.


---
Want to know more?
Got an Financial Services marketing problem that is keeping you up at night? Get in touch with our dedicated UK team here.