Usually when we talk about social media, people think about Facebook, Twitter, Google+, YouTube and many other channels. However, all of these services are unavailable in China, as it has cultivated a totally different digital ecosystem and produced a large number of its own social media platforms
So, how can you better understand the Chinese digital media landscape and use the appropriate social media channels in order to more easily reach your target audiences among 911 million social media users in China?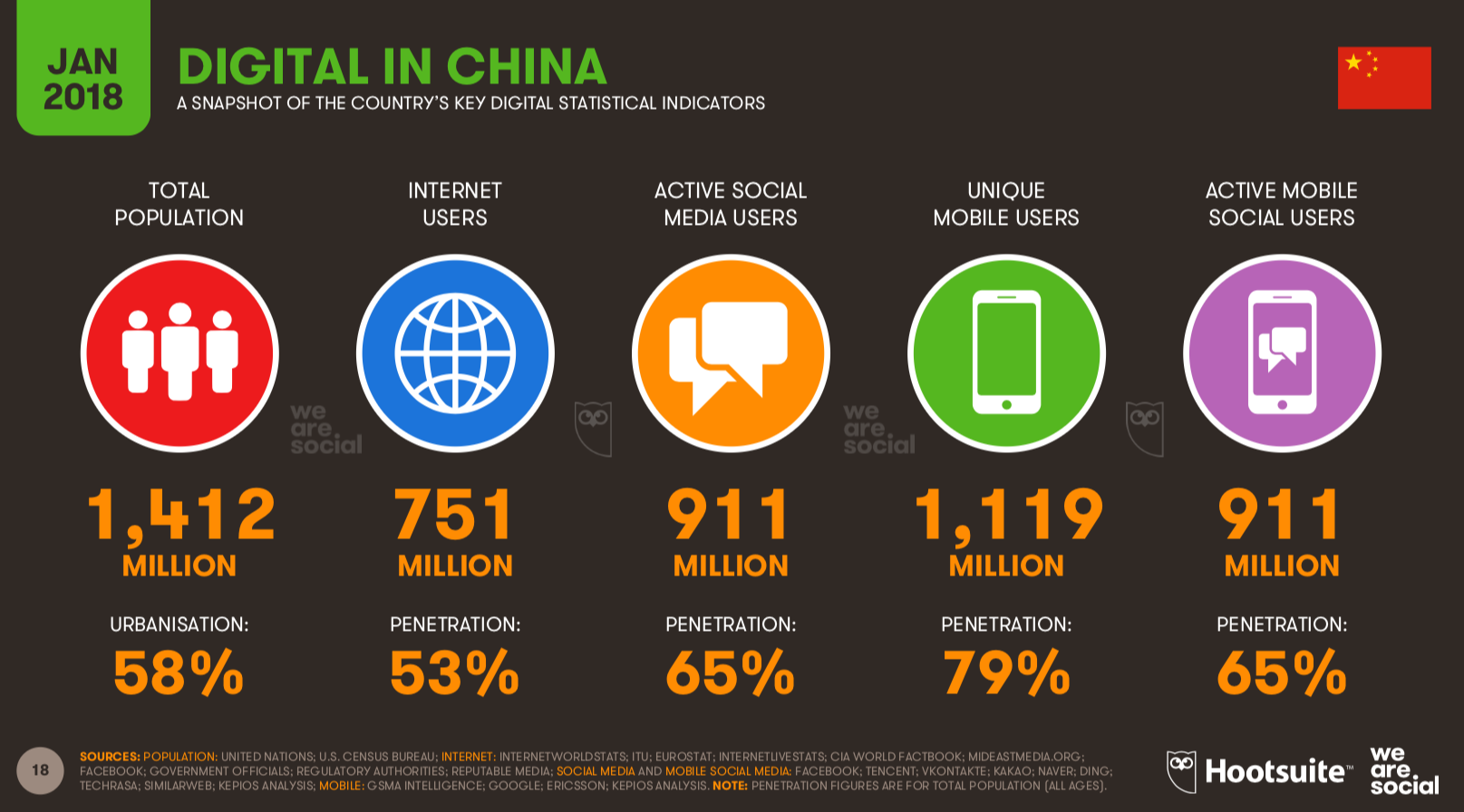 Source: HootSuite/We Are Social
Here are four key words to know to quickly learn about the China digital marketing ecosystem.
1) Baidu.

As the Google equivalent in China, Baidu, which started in 2000, is the country's most popular search engine and accounts for more than 70% of all search engine traffic in combined PC and mobile platforms. It covers 97.5 of the Chinese internet users, and daily search requests amount to 6 billion.
To quickly build your online brand awareness, you could start with Baidu Knows, the world's largest Chinese language knowledge sharing platform, and Baidu Encyclopedia, the world's largest user generated Chinese-language encyclopedia. Like Google Adwords, Baidu has its own online advertising platform, Baidu Tuiguang. If you need to optimize your website's organic search results , Baidu is what you should be looking at.
2) WeChat.

Started in 2011, WeChat has become the largest messaging and social media mobile app in China, combining the services that WhatsApp, Apple Pay, Instagram and more offer in one platform. It has around 1.08 billion active monthly users, and 902 million daily users, among whom the ratio of male to female is 1.8 to 1 and 90% are between 18-36 years old.
WeChat accounts for 34% of mobile app traffic in China and 40% its users spend anywhere from 1-4 hours on the app daily. One good feature of WeChat for your business goals is that you can open a WeChat Official Account, which can be linked to Facebook or Twitter pages, allowing brands to have their own "hub" where they can interact with followers.
3) Weibo.

Equal to Twitter plus Reddit, Weibo is an open social media platform that focuses on providing media updates and information. Considered as the second giant of Chinese social media behind WeChat, Weibo has 411million active monthly users, among whom 93% access it from a mobile device, 70% are at university level, 49.90% are female and 50.10% are male, and 100 million messages are posted by users each day.
If your business is new to the Chinese market, the immediate and most cost-efficient step to reach out to these 400 million users is to open a Weibo Official Account. As your official company media platform, it allows you to publish and updated product or service information so that you can interact with your customers, followers and potential prospects.
4) Youku.

Founded in 2006, Youku started by posting user-produced videos similar to that of YouTube. It now boasts 23.6 billion monthly views, with the majority (60%) of its users under the age of 30. Unlike the above mentioned channels, which basically have dominant positions in their category, Youku has quite a few competitors such as Tecent Video, Sohu, Iqiyi,Tudou, Meipai, Douyin, Kuaishou, Aidong, Miaopai, etc.
Therefore, when it comes to video channels, you need to do more homework to find the right one to fit your target industry and audience. For example, if your business is in music and targeting young people under 30 at the college level, Douyin instead of Youku might be the platform you want to look at to get the best ROI.
Social as part of a marketing plan
By getting familiar with Baidu, WeChat, Weibo and Youku, you are on your way to 6 steps to a successful plan for marketing into China.
Once you have a good branding message, you can start to build online awareness by using Baidu Knows and Baidu Encyclopedia. Then, you can build a rather comprehensive online community, including a Chinese website, WeChat, Weibo and Youku Official accounts.
After that, you'll need to take steps to get found in search using Baidu SEO or SEM. Then, you can begin to establish and strengthen your relationship with your customers and prospects by using WeChat and Weibo marketing.
From there, move on to build thought leadership in your area by implementing a content marketing strategy and uploading relevant content to Weibo, WeChat, Youku or other video channels. If every step is handled well, you'll be on your way to seeing great results in the China market.
Need help?
Get a free consultation with one of our experts in Asia marketing.