UP is excited to expand our presence in the Middle East and welcome a new member, Hani Thabet, who is based in Oman. Hani is a graphic designer with expertise in print design, web and game app design and development, and 3D + motion graphics, who comes highly recommended by Charlotte Wibäck, Head of UP for GOOD. Take a minute to get to know Hani.
How did you learn about UP and what made you decide to join the team?
I learned about UP through Charlotte, and the business model is exactly how I have been operating for years already. It was more interesting since it brings in more experienced and focused experts in different yet specific fields. Which makes it easier to cater to broader range of clients, however provide a more expertise focused approach.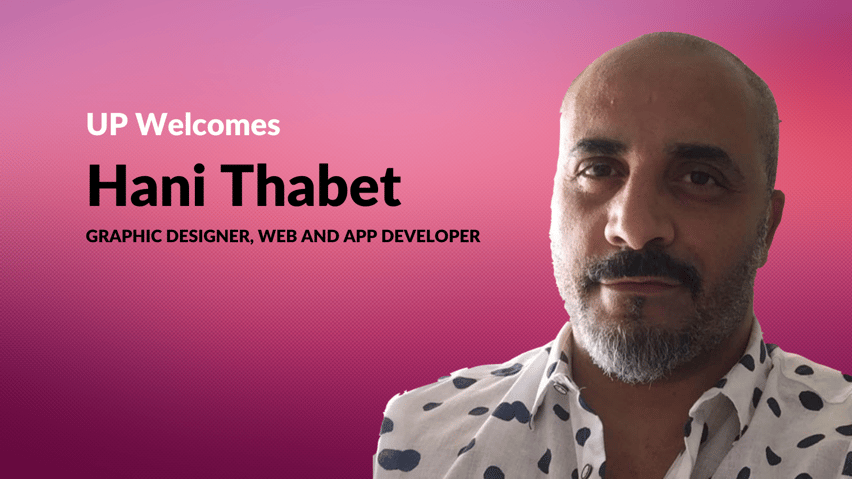 Where are you located? Have you always been here, or is this a new place for you?
I have been located in Muscat, Oman for almost 6 years now.
Tell us a little bit about the types of things you have worked on before UP?
I come from an agency background and worked on a large variety of jobs for larger variety of products. I started my career as a graphic designer with Saatchi & Saatchi Egypt, to an Associate Creative Director at Publicis Graphics Jordan, and Creative Director at TBWA Sudan, with primary focus on multi-national accounts such as Burger King, Nestle, Chevrolet, Mercedes, Nissan, Zain Telecom, MTN Telecom.
What do you most look forward to each day?
Carpe Diem. I look forward to seizing the day with everything that it throws at me, tight deadlines, new challenges, new clients, catching up with friends and family, or even playing computer games to unwind.
What is your area of focus at UP, and what are you most looking forward to doing at UP?
With 22 years of experience I am more of a jack of all trades, I am eager to focus on what I am an expert in, from conceptualizing to design, whether for print or digital app or game design and development.
What is your favorite part of what you do?
Getting a client approval and seeing the work being released out there, my second fav part is getting paid by the client.
If you could have lunch with anyone (living or deceased), who would it be and why?
Bob Marley in a blink. I've lived in Ethiopia for 14 years and went to school there. So most of my upbringing was around Reggae music and culture. I was a rasta in dread locks at a younger age, and I really find a lot of wisdom in Bob Marley and his music.
What else would you like UP members to know about you?
2020 was an exciting year to join UP and there was a lot of positivity. My partner and I established a company in Oman to hopefully expand UP's presence in Oman and the Middle East, and we had great plans for that. Unfortunately, my business partner passed away at the start of this year due to COVID complications and that has really hit hard and slowed things down drastically. I haven't been very active with UP as a result, so I want to apologize for my lack of contribution. But I will get there soon, and hope to support everyone with what I can.
We wish Hani the best of luck and much success working with UP. Have a question for Hani? Reach out here.