UP welcomes new member Kevan Savage, a brand, marketing and digital strategist based in the United States. Kevan joins UP from Thermo Fisher and brings more than 20 years of experience as a results-oriented business leader in the life science industry, where he excels at building and transforming organizations to accelerate growth. Here, Kevan talks about why he joined UP and what he brings to the team.
How did you learn about UP and what made you decide to join the team?
I learned about UP a few years ago when Thermo Fisher Scientific hired the agency to scale our creative and marketing efforts across the Life Science Solutions Group.
As I was transitioning out of the corporate setting to take on new endeavors, I became intrigued by the way UP works and decided to pursue my interest in joining the community.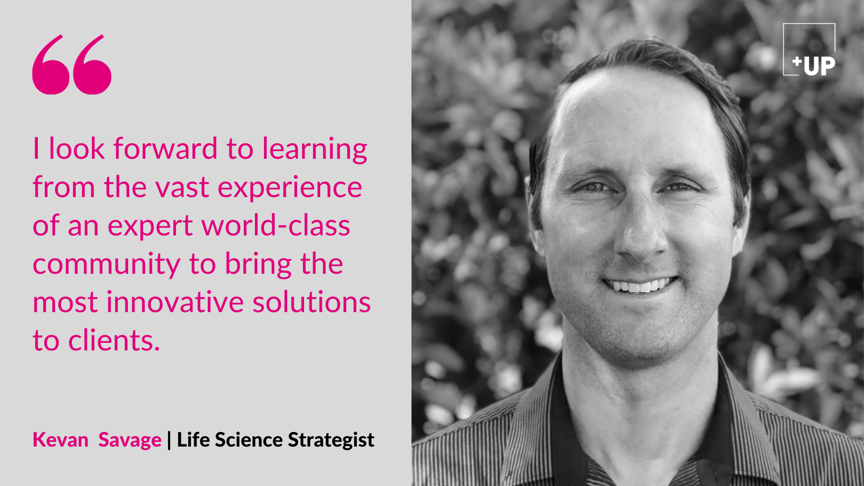 Where are you located? Have you always been there, or is this a new place for you?
I live in Eden, Utah, which is a recent transition (about 1 year ago) from the San Diego area. I'm born and raised in Southern California, and have always lived close to the ocean or mountains.
Tell us a little bit about the types of things you have worked on before UP. What do you most look forward to each day?
I have a variety of different types of business, marketing and sales experience, both B2C and B2B, spanning brand strategy, marketing/corporate communications, inbound & outbound marketing, product management, and sales management across education, software, travel and hospitality, retail, life sciences, diagnostics and clinical markets.
I've managed P&L's, brands, enterprise digital experience and ecommerce, along with digital marketing and selling, and data science efforts across many teams and industries.
Each day I look forward to working with colleagues and organizations who create mission-oriented stories and solutions to impact society in a meaningful way.
What is your area of focus at UP, and what are you most looking forward to doing at UP? What is your favorite part of what you do?
My focus at UP will primarily be in marketing strategy and account direction for life sciences, diagnostics and clinical clients.
I look forward to learning from the vast experience of an expert world-class community to bring the most innovative solutions to clients.
My favorite part of what I do is seeing strategy through to implementation and how this influences customer experiences and the touch points they have with organizations and brands.
If you could have lunch with anyone (living or deceased), who would it be and why?
Oh, this is a tough one….but as a point in time response, I would say Dr. Patrick Dixon. As a business and marketing futurist, he combines scientific and creative thinking to predict some of the most forecasted trends across industries.
For me, the future-back strategic planning approach used by many organizations today has always been of both interest and application. I'd love to pick his brain on the next mega trends across industries that could guide transformational customer experience for the future.
What else would you like UP members to know about you?
Beyond the board room, I'm often referred to as "Professor Savage." (I'm a professor at Palomar College, University of Arizona Forbes Business School and several others.) I have a passion for inspiring, educating and mentoring communities on all things business, marketing and sales.
My passions include my family, outdoor sports, music, all things food and new travel adventures.
I look forward to being a part of the talented, growing UP community.
Learn more about the UP model of cloud-based working: e-ployment