You've probably heard the verdict that email marketing is dead. Or is dying. Or that using it is old school … or some version of this claim. Once considered the darling of digital marketing, or perhaps, indeed the bellringer of the practice, email continues to be the workhorse of any good marketing program.
Seriously, don't believe anyone who says email is dead. It's not…and in fact, continues to show its value by delivering ROI and converting leads for millions of companies around the globe. It's an essential element of any inbound campaign or marketing automation program.
According to one recent survey, over four billion people use email, and that number continues to grow every day. And 59% of marketers still find email to be more effective at increasing customer retention and acquisition than any other channel.
How can you put this tried-and-true marketing platform to the best use? The answer may be simpler than you think. To start, it's important to make sure you understand what goes into an effective email. Consider the different parts of an email message that work together seamlessly to create a highly successful marketing tool.
Here is everything you need to know about the anatomy of a successful marketing email, and how to make it work for you.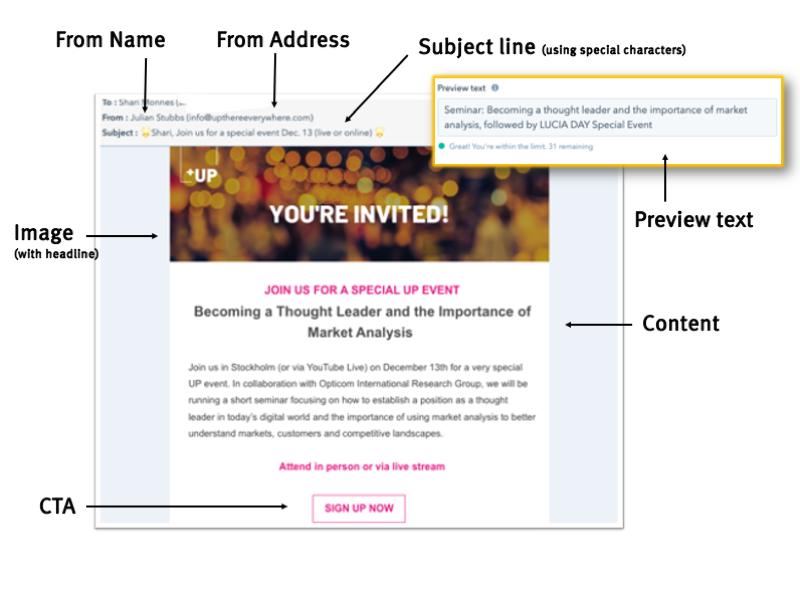 The "from" field(s)
You might think no one notices the "from" name and address…but they do. In fact, most people will look at the "from" fields before anything else when deciding whether or not to open your email. This small but significant part of your email is the first step in establishing a relationship of trust with your reader.
To nurture that trust, make the sender name (sometimes called the "friendly" name) appear as personal as possible. Avoid a generic address and instead use the name of a real person in your organization.
In most marketing email systems, the "from" name and email address can be customized and consist of two parts: a "from" name (this is the name the recipient sees) and sender email address (which the recipient also sees). The "reply-to" email address in some cases can be different from the sender address (this can be used to accept bounce-backs or out of office notices).

Make sure your "from" line is brief and pithy, no more than 25 characters. And the name that appears should be instantly recognizable to the reader.
In some cases, you can make your "from" field grab attention by using it to convey the goal of your message. For example, a field that reads "From Support" or "About Your Order" can help indicate exactly what the message is about. When your readers can identify exactly where your email is coming from, they are more likely to open it.
Open rates for B2B promotional emails increase increase 38% when they come from a person's name instead of a regular brand email.
- Jay Schwedelson, CEO of Worldata, Oct. 2021, INBOUND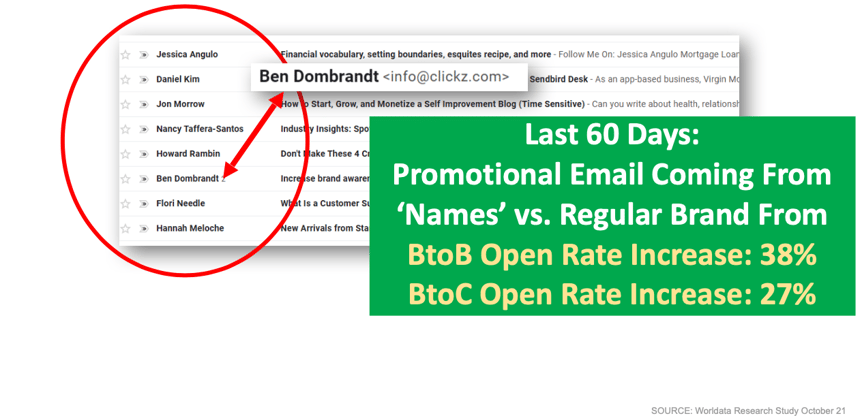 The subject line
After the "from" field, the subject line is the next part of your email that signals to readers whether or not they want to open it. In fact, it's so important that 35% of readers will open an email based on the subject line alone. Needless to say, it won't matter how amazing the rest of your email is, if no one actually opens it.
When it comes to subject lines, it can be difficult to predict exactly what will work for you. Sometimes you'll want something conventional; sometimes doing the unexpected can grab more attention. Testing messages is key: set up A/B tests (and automate sending based on open rates). Don't waste this essential element of your email message by repeating any information that is already stated in the "from" field.
While it can be hard to predict how a particular subject line will perform, there are a few rules to keep in mind.
Don't go overboard on the punctuation, especially exclamation points!!!!!

Avoid using all capital letters.

Keep it brief, between 40 and 50 characters if possible.

Make good use of personalization (using automation tokens).

Use special characters in subject lines. For instance, put [infographic] or [webinar] at the beginning or end of the message, or surround *New Event* in asterisks.

Consider using emojis (yes, even in B2B emails) - this can increase open rates.

Test using ellipses to create suspense at the end of subject lines…studies show this increases open rates by up to 31% in B2B emails.

Use subject lines to promote list content (e.g. The top 5 ways to..).

(Source: Worldata Research Study, October 2021)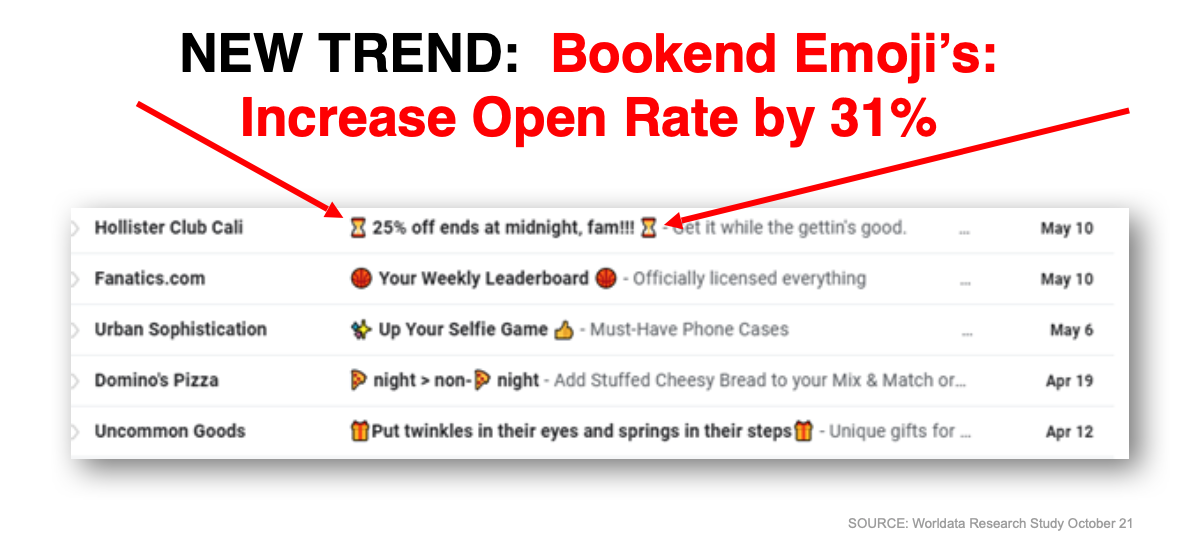 The preview text
One element of email anatomy that often gets overlooked is the preview text (or preheader). After the "from" name and subject line, the next chance you have to convince readers to open your email is the preview text. This line can be 35-90 characters (some email software may show up to 140 characters).

The preheader text appears at the very top of the email or as part of the email listing, but if you don't change it manually, it may show up in some emails as "view this email in your browser." Surely, you want to make better use of this opportunity! Consider having your message flow into the email itself, provide more information about the offer, and consider using personalization tokens.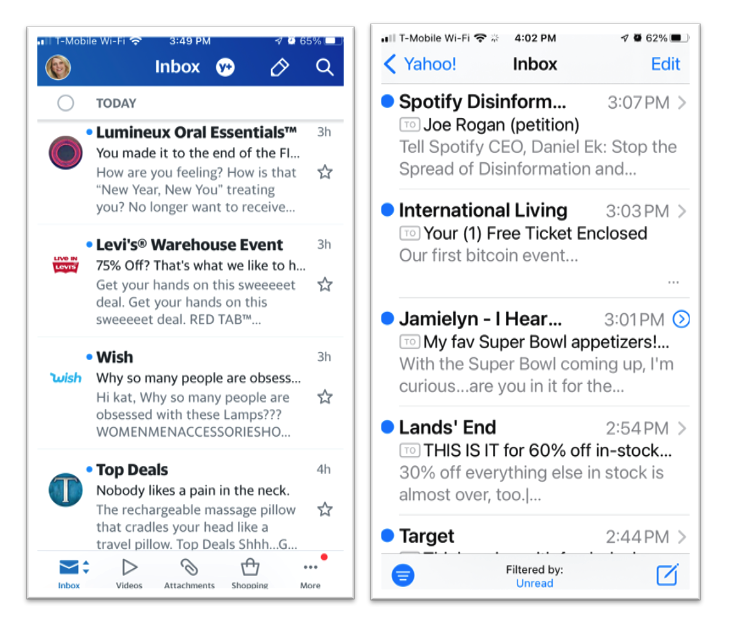 Creating urgency is another way to use this preview text, but remember that different email software display this text in various ways so the entire message may not appear (in mobile apps, for example, people may adjust the setting and only 1 or 2 lines, or part of the message).
The content
And now we come to the moment we've all been waiting for, the thing that you've been leading up to with your intriguing subject line and "from" line. It's time to give them the main body of the message.
This portion of the email is where you warm up the audience in hopes that they'll follow through on a desired action, whether it's to follow you on social media or make an online purchase.
Keep the content of your message concise. Focus on your main points, and avoid going off on a tangent, no matter how interesting it may be.
Use bulleted or numbered lists if you have a number of points. This will help you stay organized and succinct.
If you want to send a copy of your newsletter, consider crafting a list of headlines instead of the newsletter's entire text all at once.
Experiment with various styles and heading sizes. Short vs. long content.
And of course, always make sure you are adding value in your email text, perhaps by introducing a new product, including a special offer, sharing insights or promoting a discount.
The images
Your images are an important piece of your email message. We know that most people absorb information best visually. Visuals have the power to break text apart into smaller blocks so that it's more digestible for your reader. They can attract attention and interest when used effectively, giving your message a strong voice and character. But be careful in your use of images. In some cases, when an email uses more images than text, it can actually result in a lower click-through rate.
The best images are simple, getting the message across without making your message appear too busy. Stock images are fine to use in most circumstances, but check that these are royalty-free and that you've followed laws regarding copyright.
In addition, be sure you include adequate descriptive alt text on your images. Not only do quite a few of the main email clients (like Outlook) show emails with images switched off by default (goodbye accurate open rates), it's important for accessibility, too. Many disabled people use screen readers, so including alt text that explains what is shown in the image helps you along the way to delivering a more inclusive experience.
Of course, images are not the only thing that matters when considering your message's visual appeal. You'll also want to consider layout and design. It's most effective when the color scheme and design of your message is consistent with your brand.
Consider using a consistent header image to show emails are part of a series. Or experiment with emails that appear in plain text, skipping images altogether to create the feeling of a standard one-to-one email.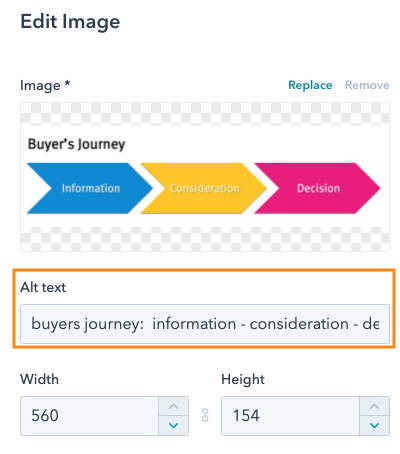 The call to action
Do not neglect a CTA in your email message. This is the essential component that moves your audience from one step to the next, from reading to doing. Decide what it is you want your reader to do. Maybe you'd like them to visit your website; or maybe you're trying to bring them to a product page.
Once you've decided what you want your audience to do, find subtle ways to draw their attention to your CTA. Consider using a splash of color in contrast to the rest of the appearance of the email. (A bright color on a gray background can be very effective.)
You could also create an actual button to click on instead of a link, as this can be more effective in many cases. And don't forget to include plenty of buttons that allow easy sharing of your message on social media.

Analytics
Once you've sent out your email, of course you will want to know how well it performed. This information can be valuable when planning future email marketing campaigns.
Unfortunately, this step has recently become more complicated due to new privacy rules from Apple. Basically, anyone opening email on an Apple device can now choose a "Protect Mail activity" option which prevents senders from collecting information about email recipients. All email will show as opened, whether it really was or not, making it difficult or even impossible to track open rates on Apple devices.
Still, there is no cause for despair. It is still possible to track analytics on other metrics besides open rates. And most business emails are opened in Outlook, Gmail, or other applications. Look for other signs of engagement, such as delivery and click-through rates. Use these metrics to gather information about how your campaign is working (or not working).
For one thing, look at the time of day when people are engaging. Are they more likely to click through when you message them in the middle of a weekday? If so, then use that information to your advantage. And also try to get a sense of the specific components of your email message that lead your readers to click through.
By following these guidelines and understanding the anatomy of marketing emails, you can harness the power of email marketing for your business effectively, in spite of the odds.
Learn more about email marketing in our guide to inbound marketing.