In conjunction with the Society for Neuroscience 2022 Annual Meeting, Noah Konig of PrecisionLife was recognized as Marketing Professional Of The Year for 2022 by SAMPS (Sales and Marketing Professionals in Science). Noah was selected as the winner by an independent jury. Colleagues from PrecisionLife accepted the award on Noah's behalf.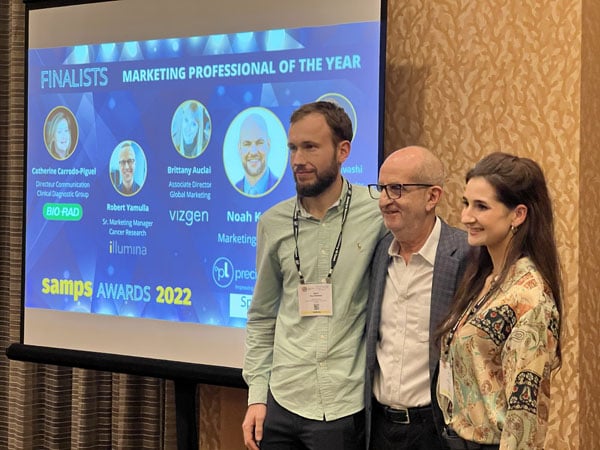 Colleagues from PrecisionLife with David Weber (center), SAMPS Awards judge and Board Member
Noah leads the marketing function at PrecisionLife, drawing together scientific and commercial insights from the team to communicate how deep disease biology insights can be used to create more personalized treatment options for chronic diseases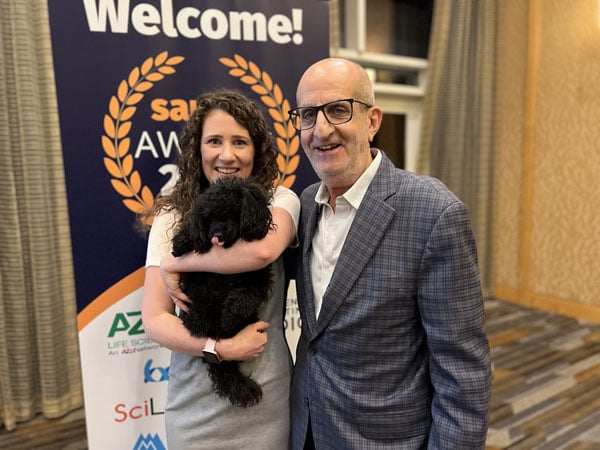 .Laura Haldane (SciLeads) and David Weber, SAMPS Board members
UP THERE EVERYWHERE, sponsor of the award, congratulates Noah on well-deserved recognition.
Dr Emma Greatorex from UP THERE, EVERYWHERE worked closely with Noah and the UP for DIGITAL team to deliver a new website for PrecisionLife which reflects the pioneering nature of this techbio company. Built using HubSpot, the platform brings together the website's CMS, marketing automation and CRM all in a single interface. The new platform not only helps to convey PrecisionLife's updated branding and messaging, but also provides a 360-degree view of the customer for PrecisionLife's commercial team.
UP THERE, EVERYWHERE was responsible for the new web presence for PrecisionLife. Visit their new website here https://precisionlife.com/.