A few days ago, a former colleague said to me, "Podcast are really having a moment."
"A moment?" I said, incredulous. "This isn't a moment, this is an audio revolution!"

In the past few years, interest in podcasts has absolutely exploded. Many people credit Serial, the smash hit true crime series, with launching the medium into the stratosphere back in 2014, but the truth is demand was already high, and rising exponentially.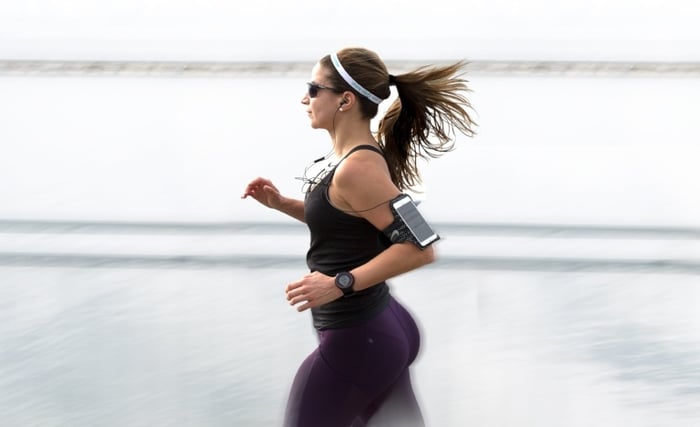 Podcasts are often listened to by people on the go.
Here are nine reasons that may persuade you that podcasting deserves your attention.
1. Big numbers
So far this year, 124 million Americans over the age of 12 have listened to at least one podcast. 48 million listen to podcasts every day and 73 million listen to at least one podcast every month. These figures increase every year.
2. Precise profiling
There are three main sources of data about podcast audiences. Firstly, to register for podcast apps listeners must supply personal details. Secondly, apps automatically log the date, time, location, type of device and more. Thirdly, listeners take part in surveys. Armed with all this information, advertisers are able to target specific groups of people with a high degree of accuracy.
3. Reach the Unreachables
The Wharton University Future of Advertising Program defines Unreachables as 'a growing audience of people who aren't tracked and therefore can't be targeted or measured with traditional tools or platforms'. Broadly speaking, these are GenX-ers and Millennials using mobile devices and smart speakers to consume on-demand content and self-curated programming. These 'cord-cutters' are the type of people who use ad-blockers and who skip past the pre-roll commercials on YouTube. They are not routinely exposed to conventional advertising. But here's the thing: Millennials and GenX-ers listen to a lot of podcasts and podcast listeners tend not to fast forward through the ads.
4. Awesome recall
In a recent Nielsen survey of 7,000 listeners, 62% correctly recalled the brand advertised in a given podcast. That's stupendous.
5. On the go
More than a fifth of American podcast listeners have done so while driving. Others listen while travelling, shopping, jogging or performing household tasks. Your audience doesn't have to be staring at a screen.
6. Community
Podcasting allows producers to build a community and to connect with that community in an immediate and intimate way. You can ask your community for suggestions or feedback and you can cultivate brand ambassadors, both for your show and for your sponsors.
7. Big ideas
In a world of tweets, soundbites and one-minute videos, podcasts are an opportunity to deliver longform content. That's right, podcasts give you, and your sponsors, the gift of time.
8. Low cost
You don't need to hire Abbey Road Studios to make a podcast. A professional producer costs around $500 per episode. Decent USB microphones can be had for as little as $130 and a further $15 will get you a perfectly adequate set of over-ear headphones.
9. The Google bombshell
Okay, brace yourselves because this is the big one. After lagging behind Apple for more than a decade, Google is finally getting its podcast act together. Worldwide, the overwhelming majority of smartphones are Android phones and yet, because Apple Podcasts is such an effective platform (and a native app), ten times as many podcasts are listened to using iOS devices. At last, Google has developed a strategy to address this problem and it is, as they say, a game changer. They aim to double podcast listenership worldwide over the next two years. Yes, you read that correctly – double.
So have I convinced you? I hope so. But if you do take the plunge into podcasting, keep these two things in mind:
Be regular
To succeed in podcasting, you must commit. Two or three episodes, no matter how compelling, won't get you very far. Beyond the obvious qualities one might expect – captivating content, superior recordings, great show notes, crisp promotional imagery – the one single thing that will make your podcast successful is consistency of delivery. Be sure to upload a new episode every week, on the same day and at the same time. Miss just one episode and you will lose listeners.
Stick with it
Don't be down-hearted if your show is not an instant hit. It takes time to build a following. A couple of years ago, I launched my own modest podcast project, Boat Radio. Six people listened to the first episode. Twelve months later, the shows were being downloaded around 12,000 times every day by people in 75 countries. (You can find the podcast here).
Need convincing?
In a recent article for Wired, technology and culture correspondent Miranda Katz said 'it seems like podcast listeners really are the hyper-engaged, super-supportive audiences that everyone hoped'.
Get started
Interested in creating a podcast for yourself or a client?
Drop me a line: mike@upthereeverywhere.com