Generate an increase in qualified leads into your sales funnel by including these seven must-have inbound marketing tactics in your marketing strategy.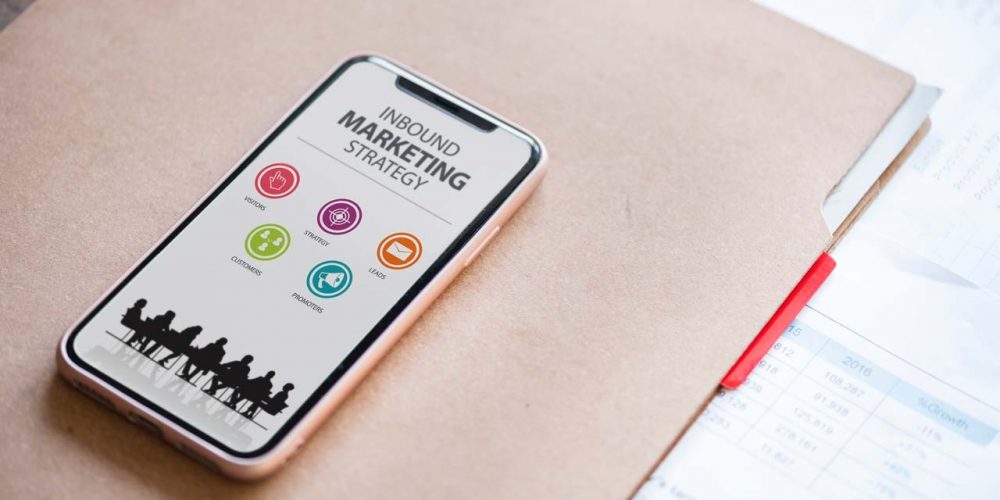 Due to the way digital transformation has given consumers the ability to research and find solutions that align to their values – your sales process has to adapt. This is a must because 57% of a buyer's decision-making process is already completed before a potential customer decides to speak with your sales team.

How does your business adapt to the new way of selling? You evolve with it, by aligning your sales and marketing team to deliver a better customer experience through the use of inbound marketing.

When it comes to marketing on digital channels, inbound marketing is the most effective approach for converting web traffic into loyal customers. If you want to get the best results and drive more qualified leads in your sales funnel from your digital campaigns – then you need to make sure to include these 7 essential inbound marketing tactics in your strategy.
What is inbound marketing?
First you need to understand that inbound marketing is an approach designed to engage with a buyer persona and to pull that specific audience towards your brand through the creation of quality content that adds value to them. It's about empowering them throughout the sales funnel and continuing to delight them through the use of content even after they've became customers.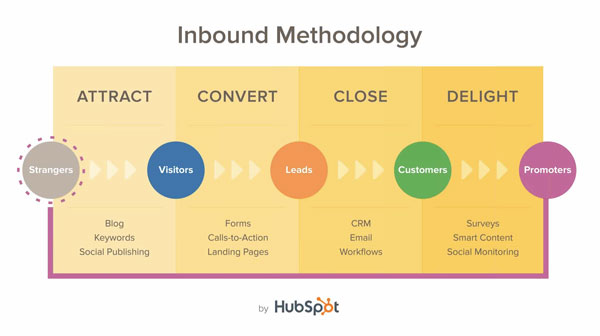 By adding value to these potential customers, inbound marketing will be better than outbound marketing in delivering more qualified leads and a better ROI for your business.
Inbound Marketing tactics to generate leads
1. Content marketing
You wouldn't have visitors over to your office and not provide them with coffee, correct? The same goes for providing valuable content to leads visiting your website, because if you don't they will have a bad perception of your brand. Content marketing is one of the most important tactics of a successful inbound marketing strategy because you won't be able to retain or convert your leads without fresh and relevant content. Publishing and distributing consistent, quality content through blog posts often times is the reason for increased website traffic.
In some cases, your content may need to come in multiple forms to appeal to your buyer persona, which all should be aimed at guiding your leads throughout each stage of the sales funnel helping your target audience. Furthermore, content marketing can position your brand as a thought leader in your industry and build a rapport with customers that you truly offer quality solutions to their problem.
2. Search engine optimization (SEO)
Plenty of businesses confuse SEO with paid advertisement such as Google Adwords and Facebook Ads. A simple reminder for you is that SEO delivers free organic web traffic to your website. SEO revolves around optimizing the structure and content of your website and receiving relevant external links to your website. By having an optimized website and content, search engines will use this to identify and index your website to appear in searching engine ranking pages (SERPs) at no cost.
You won't get business if you can't be found, which is why SEO is an important tactic for your inbound marketing strategy. Your visibility online will either make or break your online marketing efforts. So make sure you know the technical aspects to use to optimize your content because it can be crucial to your success.
Recently Google launched a revamped SEO guide that details everything you need to know to get your website optimized and found.
3. Pay-per-click (PPC)
PPC is a paid advertising tactic that falls under inbound marketing because it targets specific searchers who are actively searching for solutions that your brand can provide. A faster way to get your content or product in front of this specific audience is by incorporating PPC into your inbound marketing strategy.
With PPC, you are able to pay digital channels for top placements in search results by utilizing specific keywords and messaging to attract qualified leads to click on your ad. Once you focus a strategy that combines SEO with PPC, this will deliver the best insights needed to better search positioning, maximize your web traffic and conversion opportunities.
4. Growth-driven website design (GDD)
We all know how traditional marketing is outdated, so you can say the same with how websites are designed without taking into account tailoring the customer experience around your buyer persona. Huge investments are given into website development but majority of websites aren't scalable to adapt from insights derived from your buyer persona to deliver a better user experience and convert more sales.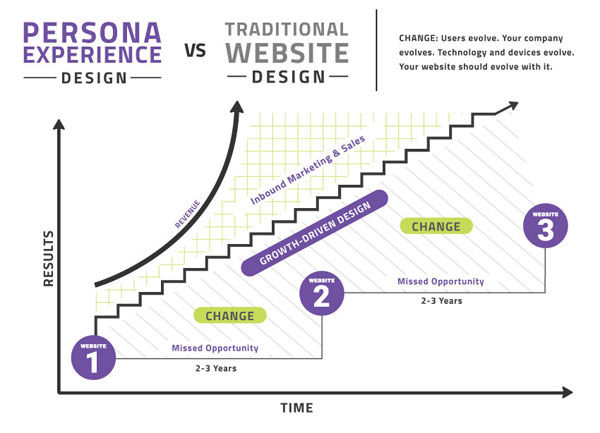 Thus, the need for a growth-driven design that uses the agile methodology to produce better inbound results through data-driven planning and continuous improvement, rather than launching a full-scale website based entirely on assumption.
5. Social media marketing
Social media marketing plays a huge part in attracting new or returning customers to your brand and the valuable content you create on your website because success with content marketing consists of 20% creating quality content and 80% promoting it effectively. Especially by engaging social media groups specific to your industry can be a great place in which to offer content to personas and influencers who will get value from it.
To get the most out of your time, you need to do some research to find out which social media channels your buyer persona frequent. If they are more active on LinkedIn and Reddit, then use these platforms to communicate with them, drive followers to your website and initiate the lead generation process. It's better to be great at one or two social media channels than okay by trying to manage five of them.
6. Email marketing
Not every lead will come across a content marketing offer via your website or their social media newsfeed. How do you make sure to reach and engage them – through a dynamic newsletter where you know the tailored message will be delivered to their inbox. This is where email marketing can be a great way to deliver news, blog posts and offers to leads and customers in your contact list who have opted-in to receive your newsletter.
From the insights you receive from each segment, you will be able to create better communications to delight and retain your customers. Email marketing is one of the best ways to nurture your leads through the sales funnel and it delivers the best ROI at 3800%. If you plan on closing more sales, make sure you have email marketing in your inbound marketing strategy to accomplish this task.
7. Retargeting ads
Retargeting fits well in your inbound marketing strategy because retargeting is simply lead nurturing on external channels. Retargeting works by using cookies on your website to track a visitor's activity. Once they leave your website, you can now send targeted ads to them on other websites to lure them back to your website in hopes of converting them into a customer. This is where relevant, quality content comes into play because without it you're luring a visitor back to a landing page that doesn't add value to them.
Retargeting is an effective tactic because you will be spending your time advertising relevant content to visitors who are aware of your brand and what you have to offer. Since they have shown interest in your content or offer, you should consider this visitor to be a highly qualified lead worthy to receive your targeted ad.
Conclusion
The investment in inbound marketing can truly deliver on effectively targeting audiences who are already looking for your product or service to solve their problem. By creating quality content that adds value to these potential customers using the tactics above, inbound marketing will deliver more qualified leads, a better ROI and help you to reach your sales goals.
Having a few of the tactics aren't enough. You need to align all of these tactics if you would like to receive the best results when it comes to converting web traffic into loyal customers, and continuously receiving a fresh stream of qualified leads into your sales funnel.
What additional marketing tactics or tips do you use to generate qualified leads into your sales funnel? Leave them in the comment field below.