How do you make an all-in-one marketing solution even more robust? For HubSpot, the answer is to add a Customer Relationship Management (CRM) component to an all-in-one lead generation system that already includes email automation, website analytics, social media management and a content management system (COS) which supports blogging, customized landing pages and "smart forms."

The new HubSpot CRM solution was big news today at INBOUND14, HubSpot's annual conference devoted to the growing field of inbound marketing. The new CRM uses the data collected by the HubSpot lead generation system to provide a sales tool that easily tracks customer interaction, logs emails, and even allows calls between sales and customers to be recorded.
Connecting the dots for sales and marketing
During a Sneak Peek webinar before the official announcement, Brian Halligan, HubSpot's CEO, said, "The Sales playbook is broken." He implied that it is no longer effective for businesses to keep doing things the way there were and expect to gain new customers.
He said, "There is a radical shift in the way the buyer and seller interact today. The buyer has the power. Not the seller. The process for how you sell needs to change."
As a result, HubSpot has built in a CRM tool that gives sales teams the kind of detailed information they need to track potential leads as they move through the sales funnel. While HubSpot's solution already integrates natively with SalesForce.com and through an API or third-party integration tools with other CRMs like MS Dynamics, the new CRM adds even more robustness to HubSpot's lead generation system by providing a CRM within the primary suite of inbound marketing tools.
The HubSpot CRM was built from the ground up to be easy to use and ready for the modern world. Intuitive and automatic where other systems are complicated and manual, HubSpot CRM takes care of all the little details - logging emails, recording calls, and managing your data - freeing up valuable selling time in the process.
New CRM collects info automatically
Perhaps the most interesting feature of the new HubSpot CRM is that it collects information automatically about website visitors to populate the CRM fields. Once a visitor provides an email address, HubSpot's software backend scours public and proprietary sources of data to fill in the missing pieces. Sales people don't have to spend hours each day manually inputting new contact records, or logging emails and interactions.
CRM users can filter the information about contacts by location, sales stage, company name or one of many other fields. They can also set up notifications about specific user targets or goals.
As visitors further interact with a company's website or sales people, the data collected is automatically entered into the CRM record, which pulls information from the main HubSpot Contacts database.
In addition to individual-level contact details, the system provides a snapshot overview of a company's current lead generation status, including how many leads are in each stage of the sales funnel from initial contact to qualified lead.

An alternative to separate CRMs
The new HubSpot CRM may not replace enterprise level CRM solutions like MS Dynamics for large organizations, but it provides a very effective CRM for smaller business and those without an existing CRM. Because it's natively part of the HubSpot tool, it's also a very good alternative option for customers considering an integration project to link an existing CRM with HubSpot.
For UP THERE, EVERYWHERE clients, the new CRM offers a turn-key solution that can help drive traffic to their websites, nurture customers through the sales funnel with stage-appropriate content, and keep sales people in the loop about qualified leads that are ready for more direct interaction.
Want to know more about HubSpot and the new CRM? Contact UP.
A closer look at the new HubSpot CRM. Screen views below of: the main contacts screen, contact record details and notes, and prospecting categorization (deals).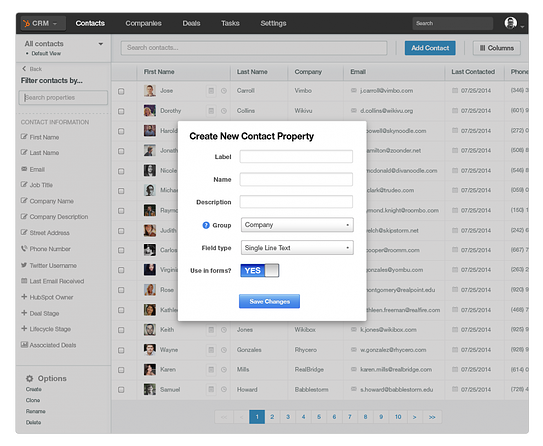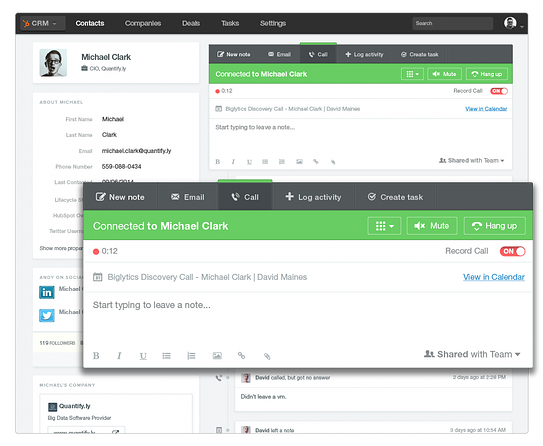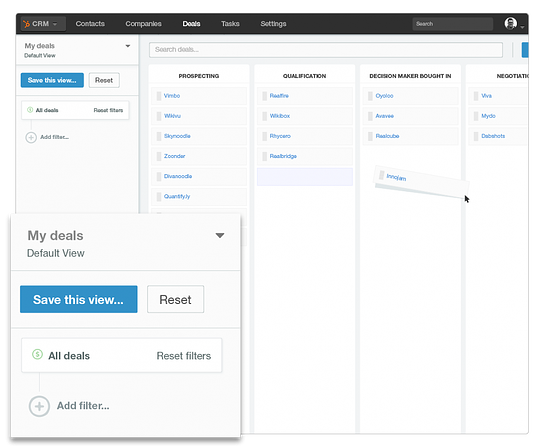 ---
Learn more about Inbound Marketing