User experience is a hugely significant factor in the creation of a successful website. It could be the key to answering why your website isn't generating the conversions you are expecting. But how can you optimize user experience if you have no idea what it is? We've got you covered!
What is user experience?
User experience (UX) refers to the way that users interact with a product, system, or service. In this case, we are talking about websites. There is no point in having a beautiful website if the user can't navigate it and find the information they need.
UX is even more important than design, allowing for engineering, marketing and design to merge seamlessly. Creating a website that not only suits the needs of your customers but is also enjoyable to use.
Why is UX important?
By putting the end-user at the centre of the design, you're taking your loaded or biased opinions out of the equation. Remember, just because you want a lead to do something in particular doesn't mean that's what they'll do!
Our weapon of choice: Hotjar
Hotjar is a powerful tool we use to audit your website's UX. It gives us an in-depth overview of how your website is performing. Acting as a starting point for improvements and optimizations. The analysis and feedback tools allow us to identify patterns in user behaviour. Gaining data efficiently, reliably, and more easily than interviews and surveys.
Hotjar can identify how long users stay on a particular page and how far they scroll down a page even if they appear to be skimming or actually reading your content!
When is the best time to conduct a Hotjar UX audit?
After the launch of a new or updated website.
To improve your understanding of user behavior on your current website (e.g. audit).
When analyzing specific areas of your website to understand what is/isn't working.
Heatmaps
Heatmaps are a visual tool that shows how users engage with your website. It gathers screenshots that record how far they scroll and what they click. As the name suggests, the results appear a lot like a thermal imaging camera. This color scale ranges from red (hot, areas of high activity) to blue (cold, areas of low or no activity).
This report identifies the hotspots on your pages with the most user interaction and areas that gain little to no interaction. From this information, we develop a picture of how users interact with your website. Links and buttons, finding (or not finding) important content, and clicking on non-clickable elements all contribute to this.
Heatmaps can also help with conversion rate optimisation (CRO). This includes how many users are clicking checkout, demo, or contact buttons. This may be useful if you are struggling to convert mobile traffic into purchases.
The user can also be tracked across devices through heatmaps. Underlining whether your website is fully optimized for desktop and mobile devices. Highlighting any pitfalls between the two.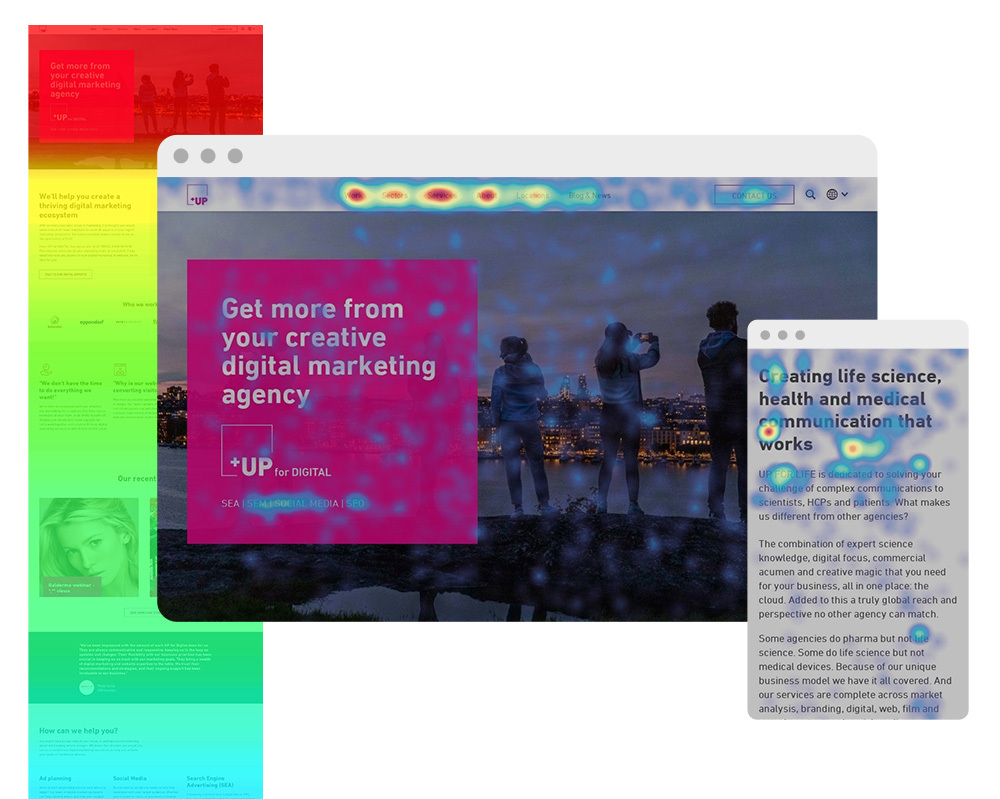 Recording sessions and analyzing the results
User sessions can be recorded through Hotjar. Showing you how an individual user interacts with your website. It captures scrolling, movements and even rage clicks! Think of recorded sessions as the more in-depth, personalized version of heatmaps. Displaying the navigation and frustrations of individual users rather than a website overview.
Recorded sessions can identify problems such as bugs. But also if users interact with your website as intended. This sets a baseline for future optimization benchmarks, clarifying the success of website change.
How do we audit UX?
Firstly, we need to agree on the focus and scenarios to test.
We then add HotJar code to your website and give the tool 4-6 weeks to gather user behavior data.
Next, we run our analysis and create a report which we will present to you, discuss the results and provide a summary of our recommendations.
A UX review can typically take at least a month to gather enough data to inform optimizations.
We can also implement our recommendations with new navigation, design, and web development. Our team are experts in building and refreshing websites to provide you with the very best in UX and design.
Why engage with UX experts instead of doing it yourself?
Yes, technically, anyone could use Hotjar to learn about their website. However, the process can be very time-consuming and confusing if you don't know what you're looking for. By working with our team of UX experts, you will benefit from our many years of experience.
We will identify the priorities and efficiently cluster optimisations. Corroborating issues pinpointed with Hotjar with your Google Analytics. This information is included in a report where we make comprehensive recommendations. Ensuring your website is performing at the highest level.
Are you looking to review your website's UX?
Why not get in touch to discuss your UX goals with us? Send us a message, and a friendly member of our team will be in touch shortly.