Developing, executing, and maintaining social media campaigns is an exciting endeavor. Driving high engagement in social media, by keeping up a continuous dialogue with your audience, requires multiple posts per week - and often on multiple channels. That translates to hundreds of images, videos, as well as accompanying text that must be created each year. And with a limited budget and resources at your fingertips, how is it best to accomplish this? Below are some content tactics that we have cultivated over the years to assist you in a successful social media development plan.
Include social media campaign material when creating other content
Few companies have an unlimited marketing budget. Creating social media campaign material puts extra pressure on already limited means. By planning ahead and acting tactically, you can get more out of your investments in content creation. Here are a few things to consider:
When shooting films (or taking photos) make sure you shoot film for social media campaigns as well. For example, by taking behind the scene shots you can add lots of material without straining your budget.

Ensure you have large enough margins in your material so that you can crop images in different ways. An image created for a printed ad could hold many possibilities for use in social media if it's possible to adjust the image without having to stick to the (often) limited crop and dimensions of a printed ad.

Films and videos for ads, brochures, presentations, and exhibitions are typically in landscape format whereas social media often features content in portrait format. Adjusting a film or image from landscape to portrait format seldom works well, so make sure you take this into account when planning your film and photo shoots.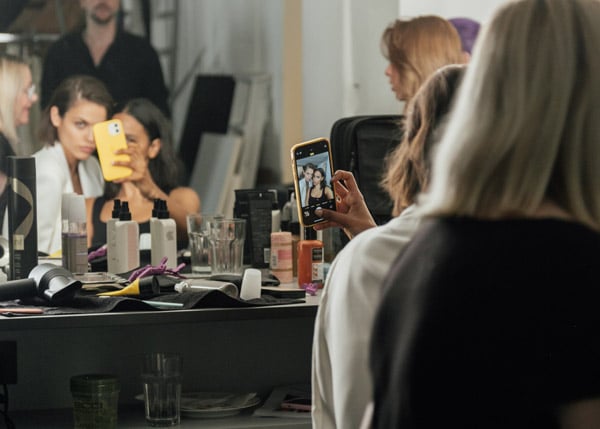 Social media campaigns – know your audience and where they are
Knowing your audience is essential when creating successful social media campaigns. Researching their demographics, interests, and behaviors on social media will give you an idea how to craft engaging content.
It's often worthwhile to develop personas for different target audiences. This helps those working with your social media campaigns utilize a personal rather than corporate tone in the dialogue.

Different age groups may prefer different channels. Keep your social media dialogue where your target audiences spend time.

You may have both professional and consumer target groups. Keep in mind that if it's an open channel, you have no control over who will be viewing your posts.

Certain regulations may limit what you can communicate to your audiences. Consult with your regulatory department to identify what you can talk about. Have a set list of words that can and cannot be used.
Create an engaging dialogue with your audience
Communication on social media differs from how you communicate on other marketing channels. Although your content is developed for mass communication, communication on social media should be formatted in a more conversational manner.
Posts that feel "advertorial" may not be very engaging. People generally use social media to interact and get inspired, not to be overloaded with advertisements. Sometimes you get so used to your own imagery that you don't perceive it to be as advertorial as your audience does.

There are different types of posts to choose from, depending on which type of interaction is desired. Sometimes, your company's regulatory environment may limit your choice. Sending live video may not be possible if all posts must be approved in advance by your regulatory department. Be sure to know what is acceptable and what isn't.

There are many ways to engage with your audience. For instance, you can invite them to comment on a post, encourage them to give feedback, use polls, or refer to more in-depth reading via links to your website.

Stories on Instagram can be highly engaging, but they don't last very long. Reusing a post in a story will save you time and budget. The more you find ways to reuse the same content, the easier it will be for you to manage frequent postings and keep the dialogue going. A few tips and tricks when editing content for social media campaigns
When you create a post with an image only, the trick is to find the best crop to make it more interesting. If you want to add text over the image, the text must be as short as possible (just a few words).

Make sure you find the right place for the text to keep it readable. Animating the text can make the post more interesting. It will then be published as a feed or reel video.

A typographical post can be posted either as a single image or in a carousel. Typographical posts can be either static or animated. The latter will be posted as a feed or reel video. The text should be placed over a plain color background, to focus the attention on the text message.

Typographical posts have more space for longer sentences compared to posts with image and text. Typographical posts can be equally appealing as other posts. The text can be animated with effects, and you can play with different type fonts and sizes, to make the sentences dynamic and captivating. Make sure that the posts are legible in mobile formats.

The general recommendation for carousels is to have no more than five slides. They can be a mix of images, animated images, films, and typographical posts to create variety.

It's important to keep the right balance among the different types of posts in your social media campaigns. Do your posts look good, interesting, and engaging when placed next to one another, such as your audience would see them when visiting your profile?

Stickers can be another visually creative tool to make your posts more interesting and fun. Stickers, just like posts, need to be relevant and interesting or fun enough for your audience to want to use them.
Check your analytics
Monitor the performance of your social media campaigns on a regular basis. A/B testing can help you determine what content works best with your target audience. Try different types of content and analyze the results to find out what resonates best with your audience.
Don't forget to keep an eye on your competitors' performance, as well as on what is trending on different platforms. New tools, types of posts, and formats are continuously launched, which can help you improve engagement rates.
If you are looking for support
If you're looking for help in developing a social media strategy and high-quality engaging content, please contact UP!