About a year ago, Google implemented a "mobile friendly" update that promised to make mobile readiness a critical part of its site-ranking algorithm. Dubbed "mobilegeddon" by people in SEO and online marketing, it promised to have disastrous consequences for anyone who didn't adopt mobile friendly practices, such as responsive design, by the deadline on April 21, 2015.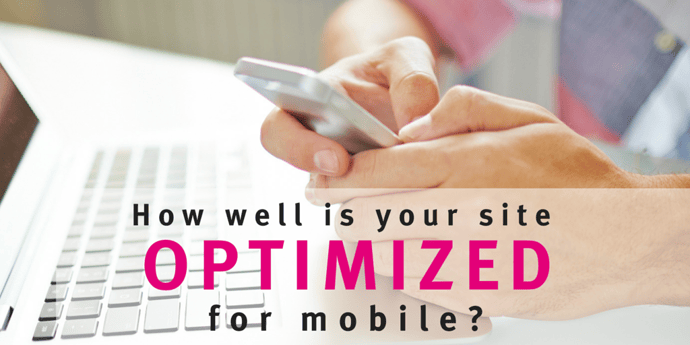 So what happened? Did mobilegeddon, or mobilepocalyse as it was called by some, occur? Well, to some extent, yes, but it wasn't the explosive event that was predicted for Y2K. (Do you remember that non-event?) Furthermore, many website owners say the immediate impact of mobilegeddon wasn't felt as harshly as originally predicted. Instead, it may result in a gradual drop in rankings as Google slowly rolls through its plan to evaluate the mobile optimization of websites.
Google did start providing warnings to site owners if their websites aren't well optimized for mobile viewing. The warning only occurs in search results shown to the site owner when viewing the site on mobile screens. (How Google knows who is the site owner is a whole other discussion <wink>).
Search Engine Land reported what this looks like: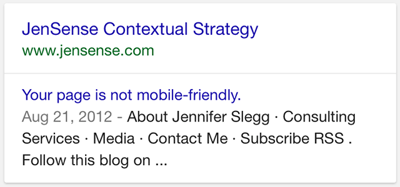 However, the real message here is that having a mobile friendly website is an important element for SEO and how Google ranks your website, and it isn't going away.
What elements make a website mobile friendly?
Of course, the obvious question is: what can I do to make sure my website is mobile-friendly? The key elements of a mobile-optimized website include:
Mobile site structure

. One of the most important elements of mobile optimization is making sure the site structure works well on mobile. Once upon a time this meant having specific code to support a variety of mobile phone types. However, today this typically means using responsive design for smart phones. In fact, Moz says Google prefers responsive design. The other option is to design a separate site just for mobile. For example, some parallel mobile sites use an "m" subdomain.
Designing for mobile. This is a bit different than site structure and means creating pages that look good when viewed on mobile as well as desktop

(for responsive sites)

. You'll see this in the format of longer scrolling pages, revising what it means to be "above the fold," and putting key elements at the top of a page (often left side for responsive grid CMS designs).
Page speed.

Because of bandwidth and connectivity issues, fast loading is even more important on mobile than desktop. Enhancing for speed means minimizing code, optimizing images, leveraging browser caching and reducing redirects.
Show all page elements. In the old days, some mobile devices couldn't support CSS, JavaScript or images, so many site developers created code to block these for mobile viewers. However, that's no longer true, and Google likes them, so don't avoid using these elements in your mobile design.
No Flash. One content option that still doesn't work on mobile is Flash. If your site is built entirely in Flash (well not only is that bad for SEO in general), it's a death sentence for mobile optimization.
Local optimization. On mobile, location is important, so optimizing for local search helps improve your site's ranking (of course, not all websites need a local search component, but for any sort of retail establishment or local service provider, it's essential). However, including your company name, address, and phone number in your metadata will provide the correct optimization signals to Google that could very well affect your site's overall ranking on desktop or otherwise.
Follow good SEO practices. In general, optimizing for mobile takes SEO to another level and requires good use of meta tags (site descriptions), URLs, and page titles. You can include SCHEMA tags as well to help your mobile content stand out in search results (more on schema structured data here).
Want to check your website? Google has a mobile-friendly test here.
How well optimized is your site?
Get a free mobile-optimization and website evaluation from UP.