Just a few short hours before the 2011 Nobel Peace Prize Concert, the artists and hosts gathered to discuss why participating in this much-anticipated annual event was important to them. The media had a chance to engage the celebrities in questions about their thoughts on world peace and the contributions of the year's Nobel Peace Prize winners.
Two UP* members, including myself, were lucky enough to attend the press conference and hear the celebrities talk about what the Concert means to them. UP also managed the Nobel Peace Prize Concert website and Facebook Page.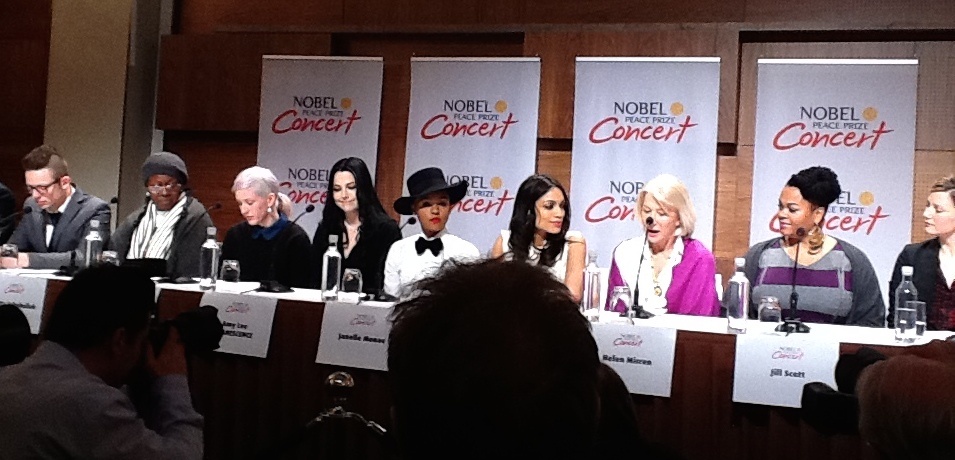 Attending the press conference were representatives from more than 50 Norwegian and international media outlets and the Concert performers, including Kristian Bush and Jennifer Nettles of Sugarland, Anquelique Kidjo, Helen Mirren, Janelle Monae, David Gray, Rosario Dawson, and Amy Lee.
Press Conference Highlights
Here are some of the highlights from the Press Conference (some answers have been edited by blog author):
Q: How can the Nobel Peace Prize Concert in general, and this year in particular, represent the Laureates?
A: (Committee Member): Through the annual Concert, the Nobel Committee tries to present the message about peace in a context that can reach groups in many countries that we wouldn't be able to reach otherwise. This is by far the most popular Nobel program being made either in Oslo or Stockholm. The reason is the people we see here on the stage. Thank you for being here to represent us in this way.
Q: How can this Concert inspire women all over the world?
A: (Ellen Mirren): At least two of these Peace Prize winners, Leymah Gbowee and Tawakkol Karman, started so small, with small grass roots movements. Sometimes in life, you come to a point where there is no alternative for you. It doesn't matter how small you start. The first thing that greets you is being mocked, laughed at, told not to be absurd. But the tenacity of these women who put their heads down and got it done, is remarkable. We know that women around the world are treated terrible. Yet most people around the world don't do anything about it. These women do. They did something about it. I am not an activist myself; I am an artist, so I really admire anyone, women especially, who do something to affect change.
Q: Do any of the stories of these women resonate with you or have a special meaning to you?
A: (Angelique Kidjo): When you're a girl in Africa you grow up without an identity of your own. Your family has the right to marry you to any man they want to. Fortunately, I was born to a family that valued education. My father was determined that both the girls and boys, but especially the girls, would have an education. He met criticism by the society. They said "Why send the girls to school? Marry them and you can make money." He said in response to them: "They are not merchandise…they are people."
It is a recognition of all those silent African women about what they are doing silently in their every day lives. So that's why this Peace Prize is so important. I hope this Nobel Peace Prize will inspire the men who love the women to do something — to come together to help women be recognized as people.
Q: Do you have a message to young people of the world?
A: (Rosario Dawson): By age 13, I was getting interested in politics. 13-15 is a time of idealism and passion. Around that age, I became passionate about the ideals I thought mattered. The idealism of youth is absolutely precious, and the only way that change comes about.
We were pretty poor growing up…we moved into an abandoned building. My activities started really early around homelessness and HIV. My first campaign alone was to "save the streets." … I am surprised when I hear people say that kids are not interested in politics. And I have to say, "Did you ask them? I'm sure if you asked them they would have a lot to say."
Q: How does this concert make you think about politics and the world?
A: (Amy Lee, Evanescence): I think it is really amazing that we get to be the soundtrack for a really important, really emotional thing. We are all in this together. It's not one person's problems. We are all humans in this together. To me, that is what music is. It's feeling all the same things together. Music is beyond languages. It's the things you can't say just with words.
A: (Ellie Golding): It is so inspiriting to to see that these women were chosen. The fact that we all get to be here together so do something so remarkable. Being in the same room, you feel something so magical. You feel the power being the same room. That's why I started crying. Even if only a few people watch the performances, to be associated with it is an amazing thing. I am so honored to be part of that.
Q: How is that to be especially chosen for a Peace Prize Concert by a laureate?
A: (Ahmed Fahti): (with translator): I am happy to participate in this concert. I am happy Tawakkul Karman got this prize; she really deserves it. When I started the working on music for this concert, I was influenced by Mother Theresa. … Yesterday I played the first part of the music for the first time using the lute. …I am pleased that we can perform music to explain the importance of peace to the world.
Find out more about the Concert at the Concert website (designed and managed by UP).