Hubspot's 10th annual INBOUND marketing conference looked a bit different (again) this year due to the ongoing global pandemic, but remote learning has some advantages. No fighting crowds or having to navigate a vast conference center to get to sessions on time, no long lines for lunch, and no worries if two "must-see" sessions are happening at the same time. Virtual conference attendance also puts on-demand on the table, so you can watch any sessions you missed, later.
As usual, the HubSpot's INBOUND conference featured an assortment of well-known thought leaders and industry movers-and-shakers, presenting new ideas, sharing secrets, and putting the spotlight on the latest trends in marketing, social media and business.
Some of the big-name speakers this year included:
Oprah Winfrey, who discussed "Lessons Learned on the Road to Success" – an inspiring and heart-felt talk to end the conference on a high note

Hasan Minhaj, host and creator of Patriot Act on Netflix, who discussed "Finding Your Inner Voice"

Spike Lee, filmmaker (40 Acres and a Mule Filmworks), who talked about "Drawing ambition out of yourself and others"

Cynt Marshall, Dallas Mavericks, who enlighten listeners about what it means to leave a "legacy"

Dawn Ostroff, Spotify, on the "Benefits of Curating Content to Your Audience" and how podcasts continue to gain traction in business communication

Judith Heumann, American Disabilities Rights Activist, about how "Inclusivity is not Exclusive"

Sarah Paiji Yoo, Blueland Co-Founder about "Social Responsibility at Scale"

Tristan Walker, Founder and CEO of Walker & Co. Brands, on "Breaking into Uncharted Territory"

Mike K. Tatum, Demand Generation Manager from Survey Monkey (Momentive) on using Workflows for Lead Nurturing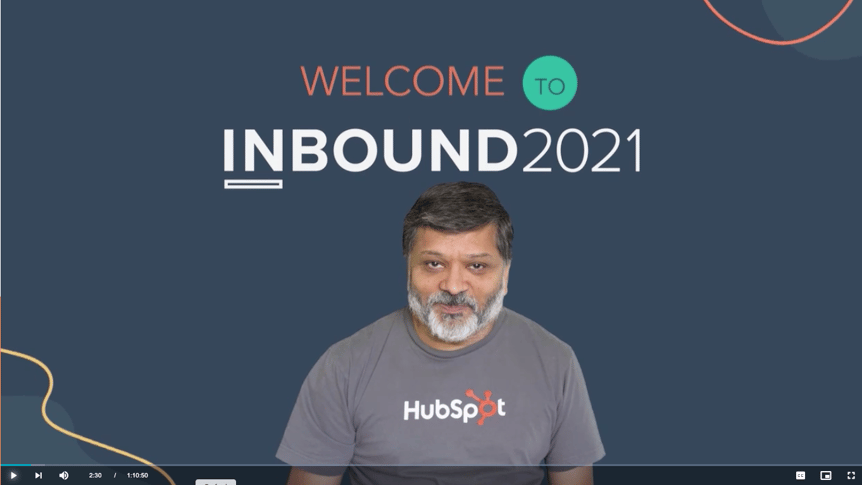 HubSpot's co-founder and CTO, Darmesh Shah, discussed HubSpot's embrace of customer centricity in their products.
HubSpot product and feature announcements
As in previous years, HubSpot used their annual conference to announce new product features and updates. The thrust of HubSpot's updates for 2021 focused on making the product more customer-centric, more customizable and more connected.
"In 2021, CRM is no longer just a sales tool — it's the heart of a scaling business. That's why the latest product updates are focused on making HubSpot's CRM platform more customizable, connected, and customer-centric than ever before."
Some of the big HubSpot product announcements for 2021 included:
Customer Portal
HubSpot has created a customer facing area that allows product and service companies to more easily deliver the kinds of experiences their customers want. With customer portals, customers can easily view and manage support tickets, explore the knowledge base and gain more ownership over their service experience. You can also now create customer surveys right in HubSpot and easily send them via a web link or email, make them part of a workflow, and use feedback to deepen customer relationships and improve retention.
HubSpot Payments
HubSpot's API has long made integration with tools like Shopify one of its key attractions. But now HubSpot has integrated a payments feature right into the CRM. Since this is built natively within HubSpot , it's easy to embed payment links into emails, quotes, websites, or live chats for faster delivery and more streamlined collection. Currently, HubSpot's payments feature is still in beta and only available in the USA.
Operations Hub Enterprise
Operations Hub Enterprise, which will be available for purchase on November 1, 2021, will make it easier to curate data using datasets to create faster, more consistent reporting for the operations team. Datasets put ops leaders in control and give businesses quicker, more consistent reporting. Operations Hub Enterprise also brings a fast and easy way to integrate HubSpot data into Snowflake, an industry-leading cloud-based data warehouse that lets you unlock deeper customer insights.
Hubspot industry leader in marketing software
Hubspot's first INBOUND conference was held in Boston in 2012, and like the company that sponsors it, the conference and inbound movement have grown tremendously since then. In addition to pioneering the idea of Inbound Marketing, HubSpot provides tools for marketing automation, social media marketing, website and content management (CMS), customer relationship management (CRM), web analytics, search engine optimization, customer service and operations support.
HubSpot offers integrations with a host of online platforms from Salesforce to Go-to-Webinar to Eventbrite, along with offering a number of templates for everything from landing pages to emails, and tools such as meeting scheduling and online chatbots. From their first offering of a Marketing Hub (with marketing automation, email and lead nurturing tools), HubSpot has expanded to offer a Sales Hub, a Services Hub, a CMS platform and now, an Operations Hub.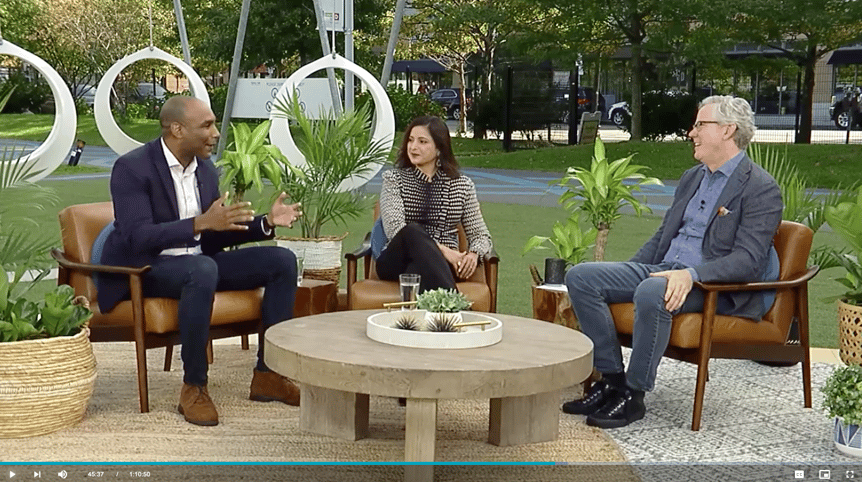 At Inbound 2021, HubSpot's new CEO Yamini Rangan and former CEO Brian Halligan, Co-founder and Executive Chairman, discussed the transition and their shared vision for the future of HubSpot.
Three Key Takeaways
INBOUND, whether in Boston or remote, is always a fun and exciting learning adventure. Each year brings more than a few key insights that influence how UP works. My three big takeaways from INBOUND this year were:
Using one single method of content production (especially only print) isn't going to cut it for much longer. Audio/video content are moving the needle. Ten years ago, few people anticipated the overwhelming influence that mobile or social would have on the overall marketing landscape. That's where we are today with video/audio.
If you're not creating video and audio content — if you don't have a podcast or video blog — now is the time to get started. How are you using video and audio in your other channels: social, email, website? Have you created a consistent customer journey that spans all these channels? What is your strategy for using each?
Consider how starting with a single long-form piece of content like a video podcast episode lets you create multiple versions of content from that one piece: an audio podcast, several shorter social clips, multiple blog posts from the transcription, an email series, etc. Tools like Facebook Live and Tik-Tok have democratized the idea of video content. They have made video accessible to everyone and changed what the public's expectations of video looks like. You don't have to make every video a long production that takes weeks or months to create. Sometimes a video recorded on your phone can tell the story more quickly and in a more authentic way.
Also ignore the old myth that video has to be short. Maybe due to the pandemic, or maybe just because of the increased demand for video, people are viewing content for longer and longer periods. Chris Savage, Wistia Founder and CEO, said 30 minutes is NOT too long for a video on your website if it's part of a knowledge series or teaches people how to do something.
30 minutes is NOT too long for a video that explains how to do something or covers a topic for which your audience has a strong interest.
The key is creating the right content for the right part of the customer journey. Create short content for people who don't know you (and for use on social media), but make it long for people who have a connection with you (who have subscribed to your channel or your podcast), or if it's on a topic they are really interested in.
One word of caution: Keep in mind, this does NOT mean you should make your product (sales) videos really long. No one wants to listen to a 30 minute sales pitch. But you can make your "How to use product X to get X results" very long or create long videos that explain "The five best ways to stop experiencing this problem."
Need help with video content and ideas? (Learn more)
Creating a brand is not the same as thought-leadership
Individuals want to build their personal brands, companies want to build their reputation in their industry, and marketers everywhere want to leverage these people and brands to influence customers and job candidates. But what makes a "thought leader"? How do you go from unknown to unstoppable?
Ashley Faus, Content Strategy lead from Atlassian, gave a very engaging and thought-provoking session on what it means to be a thought leader (complete with some useful handouts) that focused on the three frameworks.
Framing the framework of a thought leader
She said by definition to be a thought leader:
You must be a knowledge worker. We're not including "celebrities", entertainers, or sports stars in our definition of thought leader.
You must have a thought. You must have an original idea or perspective, be executing in novel ways, or introducing something new or original.
You must influence others. Just being good at a job doesn't make someone a thought leader. You have to have a following, or be influencing peers or industry standards.
She went on to define the four pillars of thought leadership:
Credibility. (Do people believe you know what you're talking about?)
Profile. (You have followers: field-level, peer level, regional or others)
Prolific. (You produce content on multiple channels: you have a book, blog, podcast, YouTube channel, Tik-Tok channel, etc.)
Depth of ideas. (You are a visionary, pioneering new methods, or re-thinking concepts)
If you're not meeting these criteria, you're not developing thought leadership. She also said that creating a brand is not the same as thought leadership. If people in your company don't want to speak about something, they are not "thought leaders," and no amount of ghost writing for them will make it so. Thought leadership is about "joining the conversation" and not just broadcasting.
Don't be afraid to try new things
One thing that was clear from a number of sessions, including several on LinkedIn Ads, email marketing and content marketing…is that nothing stays the same forever. The methods and tactics you used yesterday may be... well yesterday's news. As the ancient Greek Heraclitus said, "The only constant is change." Everything changes, so you can't be afraid to change your approach, even if yesterday's "don't ever" becomes today's "best practice."
Whether that means using emojis in B2B emails (yes, you should do that!) or creating 30-minute in-depth videos showing how you build your products, or putting reviews of your competitors on your website, don't be afraid to try new things in marketing when times change.
Watch Inbound On-Demand
If you missed these INBOUND sessions, you can still get access to them on-demand for one year. You can register here.
If you want to know more about Inbound marketing, or need help implementing anything learned at Inbound 2021, reach out to the UP Inbound marketing team.
Links to favorite sessions
Some of our favorite sessions (in addition to Oprah and Spike Lee) were:
Email Myths Busted! What's really working now
Jay Schwedelson, World Data, Founder, CEO. Jay shared some GREAT info about how to increase open rates of emails, how and when to use emojis in subject lines, what works, etc.
Transitioning to Content Marketing 2.0 with Video Podcasting
Andrew Hong, Tobe agency. Great session on using video podcasting, how to use assets in multiple ways. He gives a LOT of great information (see download too).
Debate: Content Marketing Clash: Video vs. Podcasting for Engagement
Chris Savage, Wistia Founder and CEO, Lindsay Tjepkema, Casted, Cofounder-CEO. This lively session pitted two hot forms of audio content against each other: video vs audio podcasting.
Trusted Content: 7 steps to becoming the most trusted voice in your space
Marcus Sheridan, IMPACT. Great tips on how to be a trusted resource, WHY you should be transparent about your processes and even show your "secret sauce."
Debate: LinkedIn Organic vs LinkedIn Ads
AJ Wilcox, B2Linked.com, Michaela Alexis, LinkedIn Learning, Judi Fox Consulting, LinkedIn Business Accelerator. AJ and Michaela debated and explored some ways that paid vs organic content is best used. One key takeaway: remember that offering a demo or "talk to sales" is NEVER going to be a good result for paid ads...you need a content offer and need to focus on the customer journey.
How to Scale Thought-Leadership
Ashley Faus, Atlassian, Content Strategy lead. As described above, Ashley outlined key ways to create thought leadership and offered some good handouts.