Axelos are the people behind ITIL®, PRINCE2®, and a wealth of other world-renowned best practice methods and certifications. They are dedicated to being the world's most respected provider of global best practice, continually drawing inspiration from those who adopt best practice to increase profitability, grow market share and quickly respond to changes and challenges in their business environment.
Location
United Kingdom
Sector
IT, B2B, B2C
Service
Brand positioning
The brief
Axelos came to UP in the October of 2019 to 'Deliver a brand positioning campaign aligned to the digital transformation theme'. After initial discussions UP convinced Axelos to take this opportunity to interrogate the brand in more detail - looking from the outside in they saw a positioning and brand development opportunity to that would strengthen Axelos…
Within the same budget UP agreed to take Axelos through their full brand positioning process with the aim to offer some recommendations and actions.
The approach
Using UPs signature BASE-UP approach we defined the brief further with Axelos, ensuring we knew the history and context of the global market they were part of. We then carried out an extensive audit stage, which covered:
A competitor audit
A internal brand workshop with key stakeholders
An online survey aimed at current and potential customers as well as partners and intermediaries
Desk research on what Axelos has gathered previously plus our own UP reviews
During the brand workshop we hosted nearly 30 key staff at Axelos who had the opportunity to give their views, experience, opportunities and barriers related to the brand

In conjunction we covered a very extensive competitor, marketplace and aspirational brand audit - a completely neutral view of the competitive landscape that Axelos operates in, looking at the patterns, blockages and opportunities available to them.
All of this was then fed into the strategy.
The solution
Through our audit and subsequent strategy stage it became very clear that Axelos was a product-led brand, much more well known for the likes of ITIL® and PRINCE2® which meant there overall brand awareness and business was suffering. Our task was to move Axelos from here by unifying their purpose and building collective awareness of their portfolio; brand to product and product to brand via clarity and confident messaging and a brand that could easily be navigated.
The core of this was our internal positioning statement:
WHO WE ARE:
Axelos are the global leaders of the art of best practice.
WHAT WE DO:
Whether your need is traditional project management or innovation through digital transformation we are the go-to experts of all best practices.
HOW WE DO IT:
Through quality, innovative certifications, courses and support that plugs into a global community of like-minded individuals.
We are the champions of best practice who will guide you through your journey of continual improvement.
INTERNAL GOLDEN THREAD:
Empowering best practice, globally.
Creatively our solution was to create standout and that clarity via a bold rebrand with a smart and updated TOV <insert creative>.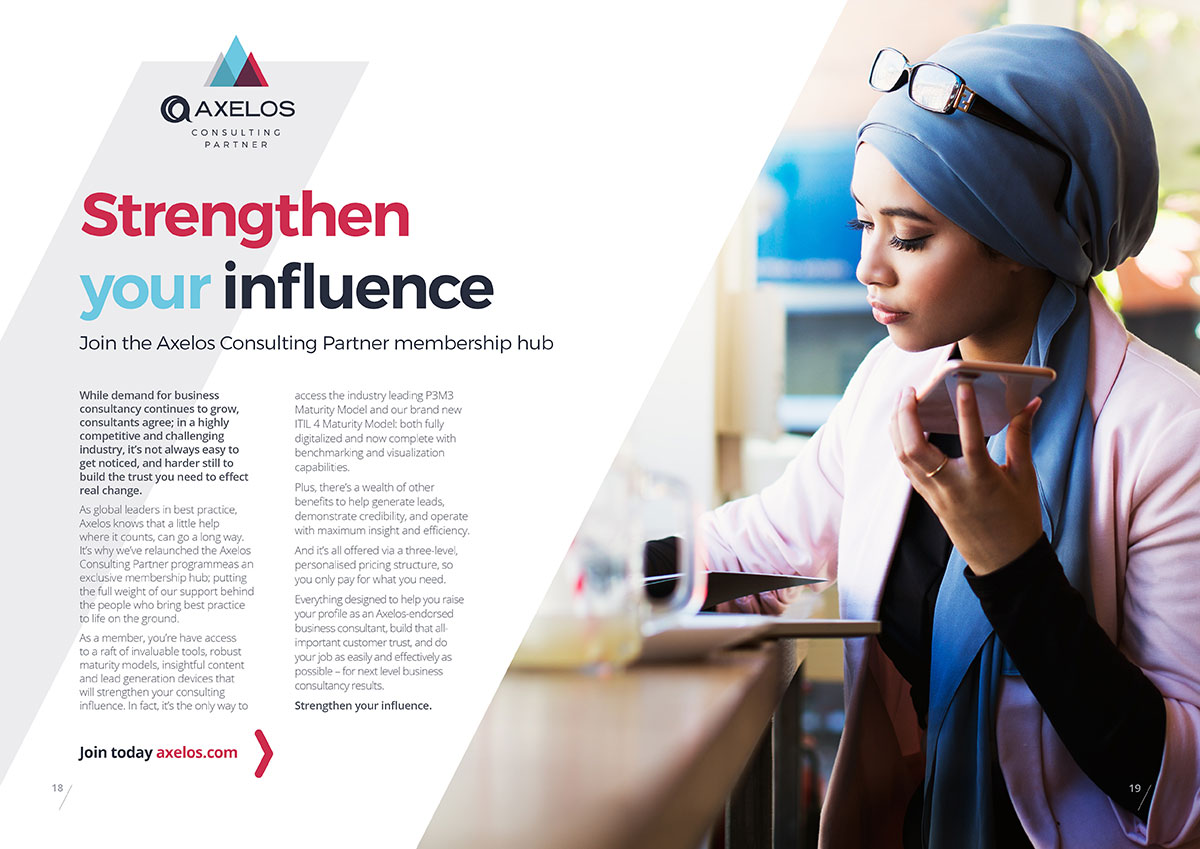 The result
"Axelos is the global leader for best practice guidance – so it is very apt that we have worked with Up There, Everywhere to deliver our new brand look and positioning. If Axelos were to produce best practice guidance on how to reposition a brand, then the work that UP has produced, and how they challenged us and delivered on time and within budget, would be a shinning example of how best practice would apply to rebranding an organisation and how an agency should approach a major project of this magnitude. The positioning and new visual identity has made us much more appealing and accessible to our global audience. We have only received positive feedback on all of the work produced, so we owe so much to Up for challenging us and creating a new and enhanced Axelos that all stakeholders are proud to be a part of"
Adam Cracknell
Senior Brand Manager