Axelos are the people behind ITIL®, PRINCE2®, and a wealth of other world-renowned best practice methods and certifications. They are dedicated to being the world's most respected provider of global best practice, continually drawing inspiration from those who adopt best practice to increase profitability, grow market share and quickly respond to changes and challenges in their business environment.
Location
United Kingdom
Sector
IT, technology, industry & D2C
Service
Product portfolio: branding and campaign delivery
The brief
Our overall brief was product marketing focussed to 'rename, rebrand and reposition Axelos' PPM portfolio, and move to no longer using the term PPM'.
Axelos, their competitors and the certification world used the acronym PPM freely but there was some real confusion what it meant for and what products it covered, it actually stands for Project Portfolio Management, but their was real confusion in the market.
Axelos were also keen to formulate a cohesive, full-portfolio offering to the market for their Projects & Programmes Product Portfolio, with the objective of providing a clear user journey that will improve conversion rates and grow exam volumes for other products, beyond just PRINCE2® which was their current market leading product within PPM.
The approach
Using UPs signature BASE-UP approach we defined the brief further with Axelos, ensuring we knew the history and context of the world of PPM. We then carried out an extensive audit stage, which covered:
A competitor audit
A internal brand workshop with key stakeholders
An online survey aimed at current and potential customers as well as partners and intermediaries
Desk research on what Axelos has gathered previously plus our own UP reviews
Working with Axelos we embarked on a thorough audit stage that allowed us to review how all their audiences felt about the world of PPM, how their competitors were approaching it and importantly what potential customers were presented with when they went to look into this space.
In our competitor audit we reviewed nine competitor and partners brands plus where Axelos were; we then overlaid this with research and work already completed and the thoughts, fears and plans of key stakeholders via a brand workshop. And finally we further overlaid a targeted online survey asking the key questions around PPM and its future. All of this was then fed into the strategy.
The solution
Our solution came in two main areas, the strategy and the execution.
Via our audit stage we built a strategy around some key areas / actions:
Axelos have the opportunity to take charge of the space, own it, and be a certification demystifier
To do this they must guide the audience through the current minefield - be the leader that supports them with simplicity
By creating a simplified Axelos' owned version of PPM; rename it, define what certifications it includes and make it easy to navigate
The key to this is creating simple and consistent product branding, positioning and messaging
And then start creating awareness…repeat, repeat, repeat to create Axelos ownership
Execution wise we worked with Axelos to develop a full new brand, positioning and key deliverables that included:
Renaming to Axelos® ProPath

™

Brand development, TOV, positioning, brand manifesto, copy blocks
Brand guidelines
Brand key items, digital advertising, web templates, landing page, emails, certification
The brand was then developed further by UP via a couple of different acquisition campaign:
Acquisition key items, digital advertising, web templates, landing page, emails
30 sec TV advert broadcast on the SkyTV AdSmart platform
Further digital advertising utilising cuts from the TV advert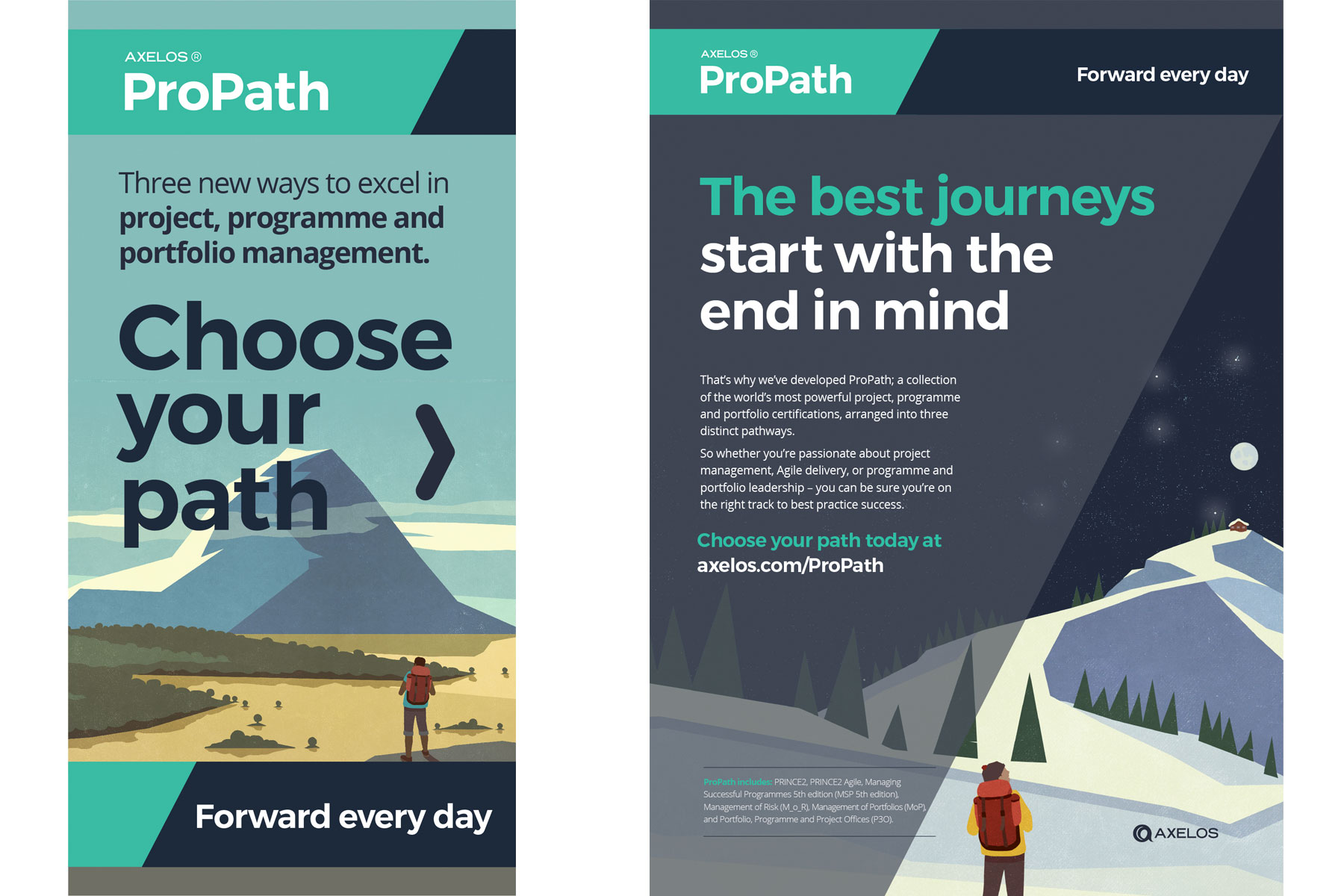 The result
Total number of visits to the Axelos® ProPathTM landing page, since April 2021 launch – mid November:

268,000

Total number of goal conversions based on our KPIs:

over

3,100

with the majority of those being CTA clicks to

'

find training

'

or

'

buy resources

'

Over 100 leads generated via an enquiry form on the webpage
The TV advert itself had

420,000

impressions over a relatively short four month burst