In today's multichannel marketing, many companies strive to be active across a variety of channels to broaden their marketing mix and reach their customers from as many directions as possible. This contact takes place almost exclusively in traditional and digital channels, which are mainly paid for in some form. However, for many pharma and life science companies the most important resource is almost completely forgotten: making use of the employees' "megaphone" as part of a social media advocacy program. In this article, we illustrate how you, as a company, can use that resource for social media outreach.
Are you missing the most important channel for marketing?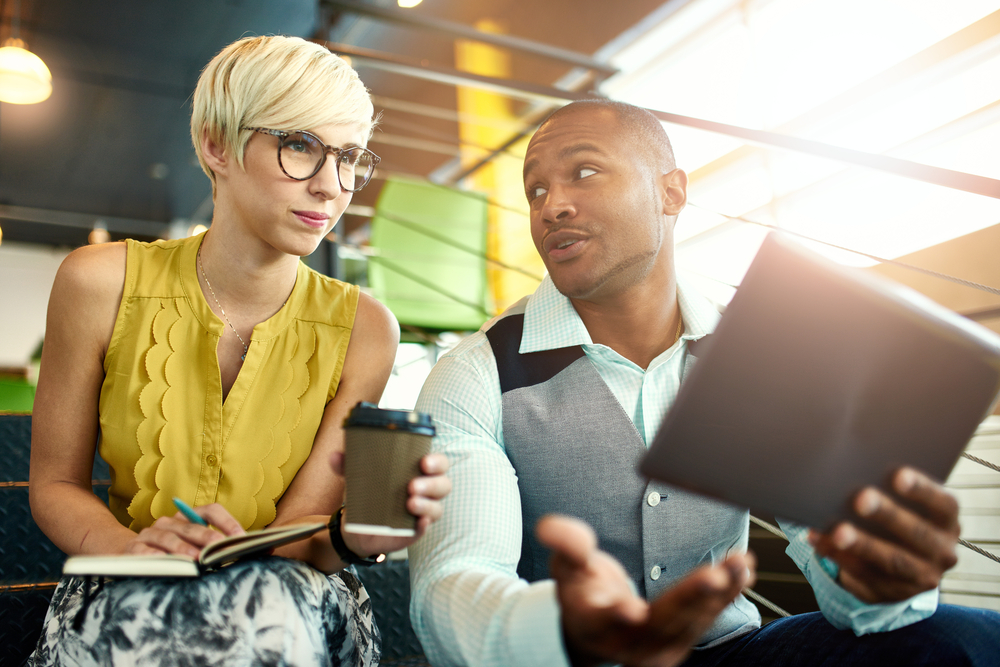 Get Our Complete Guide to Multichannel Marketing: Subscribe to receive this series by email. You'll receive six parts, including how to use email marketing, website content, webinars, virtual and group meetings, social media and inbound/content marketing to generate leads, nurture your audience and delight your customers. Subscribe to series >
From influencer to advocacy: social media marketing
One of the really big trends in digital marketing today is the so-called "influencer marketing model," where companies hire well-known people to promote their products. In the study State of Influencer Marketing 2018, 86 percent of all marketers had used influencers in their marketing at least once and more than 9/10 found the strategy to be effective. As many as 39 percent planned to increase their budget for similar initiatives in 2018 and only 5 percent intended to reduce their budget.
So, what do these numbers tell us? Well, once again we have proof that we are increasingly skeptical about branded marketing, that there are very few who want to be sold to, and that most of us want to experience something authentic and feel a connection when we navigate in the world around us and make decisions.
Honesty, credibility and vulnerability
In an article in Forbes magazine, Ashley Deibert, VP of Marketing at iQ Media, writes that "humans are emotionally driven and crave the security of knowing there is an underlying foundation of mutual respect, honesty and trust between them and the establishments they associate with."
She continues to say that companies that invest in communicating character traits such as "honesty," "credibility," and even "vulnerability" win over companies that have not adopted these values ​​in their communication. And Ashley is not the only one who says this; many others are saying the same thing.
These prerequisites for gaining the customer's trust are clearly seen to be the only sustainable and reliable strategy for a company to flourish in today's hard and changing market climate.
It is something that is true within B2B/B2C and something that is definitely true in sales and marketing of prescription pharmaceuticals and OTC products.
Employees as ambassadors
The last few years I have visited companies that have engaged influencers and also, in a smart way, their existing customers in order to together with them create the conditions for these individuals to act as brand ambassadors.
Something I have't seen in many companies, is a successful internal project where the company has started a collaboration with their employees, with the goal of reaching out through social media so that each employee in his or her own way is an influencer. This method of employee advocacy using social media is a huge and growing trend across many industries.
Once implemented, the psychology of such communication from the employee becomes about the same as that for conventional influencer marketing. This is due to the credibility that comes with an authentic insight into the personal situation, a lack of an overly obvious branding strategy, mixed with an ounce of pride over one's own work role. And, above all, a close relationship between the publisher and the recipient.
But, before we get to that part of the article, I want to give some context to the topic through three different scenarios:
Scenario 1: The blogging boom
Today, there is more content than anyone can consume and you can find basically anything explained in text, image, or sound. Everyone has the opportunity to be seen, heard, and read by the more than 54 percent of the earth's population who have access to the Internet.
However, it has not always been so. If you look at it historically, the power to control and influence has largely been in the hands of those who could read/write. Then it moved to those who could print, to end up with those who had influence over the press, radio, and television.
Then something happened. In 1994, a student named Justin Hall started a website , where he wrote openly and personally about his life, a website that is active even today. Justin's website is considered to be the first website of its kind and the starting point for personal blogging.
The concept of writing to tell openly about your life on a website was developed and slowly more people begun to catch on to the idea. However, you had to be able to code HTML to manage a website and the development was relatively slow.
Then, Blogger.com was launched, a website that was created to make blogging accessible to everyone. At the launch of Blogger in 1999, it was estimated that, globally, there were 23 active blogs as we define them today, a number that grew exponentially with better and more easily managed tools to about 50 million active blogs in 2006.
The blogging boom was a fact and at this point every person with a computer and an Internet connection could create their own blog.
But it did not stop there.
Towards the end of 2010, the estimated number of active blogs was about 152 million, a number that continues to grow. Today, according to First Site Guide, it is estimated that there are more than 570 million blogs, on only the cloud services Tumblr, Squarespace, and Wordpress.
This retrospective illustrates that in a very short time, tools were developed that enabled simple content production and distribution, initially in written form, for a huge amount of people.
And the result is a completely unimaginable production of content, for better or worse, where today it is no longer a challenge to find information but to find good information.
Scenario 2: The subversive power of social media
Without a doubt, the Internet is one of the greatest advances in modern history with an incredible power to influence our environment.
A few examples worth mentioning are the "Arab Spring" that started in 2010 and in a short time, mainly through a powerful impact on social media, deposed presidents, overthrew governments, and paved the way for democracy in dictatorial countries in North Africa and on the Arabian Peninsula.
Another example closer to home is the #metoo movement that got its boost on October 15, 2017, when actress Alyssa Milano via a post on Twitter, urged women all around the world who had been sexually harassed to write about it and use the hashtag "MeToo". We all know that this movement in social media has created a storm of disclosures, resignations, prosecutions, and, in many cases, some form of justice after too many years.
What I want to show with these two examples is how powerful it becomes when personal destinies and injustice (vulnerability), sincerely retold (honesty) by the individuals in these situations (credibility), are joined in actions on social media.
It becomes authentic in a way that we, as recipients, can relate to and, for some recipients in certain contexts, there arises a feeling of a one-to-one relationship where you are seen, perhaps understood, and above all – not alone.
To humanize your brand – to show what happens behind the "curtain" while allowing some vulnerability – becomes more and more necessary and creates the authenticity that we, as consumers, demand and an insight in the market that reaches behind your brand.
Scenario 3: We value authenticity
90 percent of all data available online today has been created in the last two years.
If you think about that number for a second and try to understand the extent of what it means, every day and every minute, where do you end up? Pretty powerful.
Now, "all data" is not synonymous with content, but it is nevertheless a thoughtful and fundamental indicator of how quickly certain development takes place online. As individuals, we contribute to much of the data which is stored online and many of us also create specific content that is stored online, including using platforms such as Blogger and through our social media accounts.
So while we generally appreciate and get impact with content that is honest, credible, and that has a certain measure of vulnerability, there is another dimension of what we appreciate on social media, which includes three important elements:
Information
Entertainment
Connection
Read more: What motivates people to share social media content
Do you know the name Candance Payne?
I had to check her real name again in connection with this article. But if anyone had asked me if I had seen "Chewbacca mom" on YouTube a couple of years ago, I would have immediately remembered who it was. It is probably one of the funniest examples of something that has gone extremely viral in recent years. Having earned about 140 million viewers in the first three (!) days, it is likely that you have seen the clip. If you have not seen it and want to have a laugh, watch it now:
What was it that made the film clip with the "Chewbacca mom" so viral? I believe it was that we, for just over four minutes, get to see something that contains all three elements (honesty, credibility, and a degree of vulnerability), at the same time as it gives us a proper scoop of feel-good (entertainment) with a huge degree of connection.
We get to know that Cadence, who just has gotten into her car after having bought a Chewbacca mask, says she bought the mask for herself, not for her children, although they can, of course, borrow it (she is not a bad mother), and we can see and hear how she is completely overjoyed by it. She tears off her glasses, puts on the mask and laughs so hard that tears are running down her face and she can barely speak for laughing about the sound that emits when she opens her mouth.
It is obvious that Candance really loves her mask. And she does it without a sponsor behind her. She does it without any thought of personal gain. She does it simply because she is totally overjoyed about her purchase of a Chewbacca mask. And it is so genuine that the film clip got more than 1,600 new views on average per second, every second, during the first three days.
The type of authenticity that we see in the example with "Chewbacca mom", the glimpse into a private sphere that entertains, is what has created a whole generation of new influencers with thousands, sometimes hundreds of thousands or millions of followers who want to look into the lives of their idols. In my view, it is exactly this kind of heartfelt closeness that lays the foundation for a deep connection that can continue for years. Is it possible to incorporate some of these elements into your brand or corporate communication?
The bottom line
So, what then is the bottom line in these three scenarios? Well, they offer three things:
• The right content. It is easy to get carried away by the rush to publish content because "everyone else is doing it." Too often, content that is produced in a hurry is focused on what we, as marketers and salespeople, want to say and not as much on what our audience wants to consume. This is because we have not stopped and created proper Buyer Personas (defined recipients of our content) or created content based on the Buyer journey that the Persona moves along.
• Authenticity. It is too easy to ignore the building blocks that constitute a communication that resonates with the recipient. If the communication ends up with an inside-out and product/service message, it becomes extremely difficult to include the deeper values discussed above, but also your "why" that describes why your organization exists and that people can relate to on an emotional level.
• Entertainment. It is on social media where we usually share things that we find informative, entertaining, or that create a connection. "Chewbacca mom" became a viral success because it was authentically entertaining. There is an upward trend for influencer marketing since influencers are authentic, often amusing, sometimes informative, and above all pros at connecting with their fans.
You and every one of your colleagues are authentic in your own networks. And most likely, you, your colleagues, and your organization are working with one or more projects that you would proudly share with your networks. Especially if there was a structure set up by the company that made it easy to share.
Read more: What motivates people to share social media content
Employees as company ambassadors
The company's employees have an in-depth knowledge of the business, they know your products, and are almost always directly or indirectly involved in many of the initiatives and projects that are being implemented. Each one of them is a potential ambassador with the following benefits:
Recognition
Consumers, i.e. people like you and me, trust their peers and people they can recognize and relate to. The survey Edelman Trust Barometer 2017 showed that employees are a source of company information that is three times more credible than the company's CEO. Not only because they work there, but also because consumers can often better relate to them, than to the company's CEO.
Employees have their own networks. Chances are that these networks affect many different people and demographics from one employee to another, especially on Facebook with its 2 billion users, who often only connect with people from their private sphere. The more employees who share branded content in a way that is valuable for the recipient, the more exposure you get for these parts of your business in the respective networks. (For example, if an employee shares a good solution for pollen allergy in pollen seasons, or shares content about "beyond the pill" patient or disease-related initiatives.)
Engagement
In my article about email marketing and KPIs, I wrote an email message from an employee has a two to three times higher opening frequency than if the same email came from the company as sender. This phenomenon is the same when people share posts in social channels. There is an up to fifty times higher likelihood of a purchase if the recommendation comes from a close and trusted friend.
A fifty times higher likelihood of a purchase may sound a bit too good to be true. But if you look at your own behavior on social media and the point above regarding recognition, it becomes more understandable. Consumers pay much more attention to content shared by their friends and acquaintances than to content shared by a company or brand.
If the post also includes an opportunity for us to feel intelligent, cool, to be seen as engaged in important issues, or funny – factors that Jonah Berger presents in his book Contagious: Why things catch on – chances are greater that we will choose to share the post with our followers.
Conversion
In 2011, IBM launched an ambassador program for their employees where they found, among other things, that a potential customer who approached the company through social channels, where they first interacted with an employee, was seven times more likely to become a paying customer. IBM's initiative comprised 200 IBM employees who created content that generated a total of 603,000+ clicks, with an estimated advertising value of somewhere between $300,000-$1,200,000.
Parts of their ambassador program are described in a webinar on the website BrightTalk.
Creating an employee advocacy program
So now to the core issue: how do you create these ambassadors? And the answer is in the process, where it is always important to look at the result and work backwards through the steps that are needed to arrive at the situation that we have today. As a helping hand, here are some things to consider.
Focus the program by considering goals
First, the right conditions for the initiative need to be in place. Here are a few questions to ask and boxes to check:
• Is the initiative firmly anchored in the management team?
• What does the budget for the initiative look like and what considerations need to be made?
• What business needs will be addressed through the initiative?
• Which KPIs are relevant for you?
• What should the company's tone of voice be?
• What are the incentives for those involved in the initiative and how are they evaluated?
• How do you manage the situation if something goes wrong?
• When and how will you give the management team feedback on the result, including lessons learned, both good and bad?
Read more:
Assemble the right team
The next steps in creating an employee advocacy or ambassador program, are to assemble the right team and provide them with guidance.
Assemble a pilot group of the company's existing social media experts
Conduct a workshop where needs, opportunities, and possible way forward are discussed
Compile the output from the workshop and set up guidelines for the initiative
Provide the group with tools that facilitate their work
Create a plan for how you should manage different networks in different ways (length of the posts, format etc.)
Pay attention to, celebrate, and reward success
Engage more employees in the initiative
Establish budgets
Each project needs a budget, and so does an ambassador program.
What kind of content needs to be created (film, audio, image, graphics, text)?
Is there any need for external assistance from an agency?
Does organic reach need to be complemented with paid advertising?
What is the cost of the tools and services needed for a relevant impact?
Develop the right calls to action
Sometimes the purpose of a post in social media is to inform, to create awareness, but almost always the post is published with the purpose of attracting visitors, driving traffic to an article, an offer, or a registration page. When the purpose is to drive traffic, a well-formulated Call to Action (CTA) becomes extremely important, along with an almost equally important explanation of the value for the reader if he or she acts on the CTA and makes a click through.
Regardless of whether the purpose of the published posts is to inform or drive traffic, there should be a link to an identified business need. "Why do these posts move a reader closer to a business deal that is good for both us and them?" is a good question to ask and if the answer is that there is no connection to the business or even worse, that there is no clear value for the reader, you should re-evaluate the initiative. As stated under the heading "The bottom line" above, there is simply too much content all over the place for you to get any exchange from what you publish.
When formulating the CTA which is supposed to drive traffic, it is important to use an active language such as "download", "like", "buy", "register", "sign up", "donate", "share", "comment", "look at", combined with a defined time frame such as "ends at midnight", "only today", "the next 24 hours", "until September 27". Try to find ways to highlight the CTA, either as text or visually, so that the most important aspects stand out from the other content, and has a greater visual weight, as this increases the likelihood of a higher conversion rate.
What are the KPIs?
Each company has its own goals for its ambassador program. Here are some suggestions of KPIs to take a closer look at:
Outreach
Number of followers
Impressions
Mentions
Engagement
Likes or "mark as favorites"
Comments
Shares and retweets
Ratings and reviews
Inbound links/back links from other websites
Return on Investment (ROI)
Direct sales initiated by the chosen CTA
Lead (potential customers) conversion for processing
Cost of managing support issues
Service level agreement (SLA)
Time to answer per platform
Resolved issues
Customer satisfaction
Read more: How can I measure ROI of a social media campaign?
How should the company's "voice" and "tonality" be perceived?
Many companies already have a detailed instruction and target image of how they want to be perceived in their communication, which is linked to expressed values. However, an initiative with internal ambassadors, who are active in social media, is probably a new thing for the organization and a check-up should be done to ensure that the intended "tonality" becomes the right one. The company's "voice" should be consistent and convey the essence of the personality and style of your company, while the company's "tonality" is something that can be adjusted depending on things such as content, channel, situation, and recipient. What do these two aspects of communication look like at your company?
Read more:
Incentives and social advocacy
My experience tells me that it is often easier to get people in an organization to move in a certain direction if first and foremost they get attention, but also if there is some kind of incentive to act. The "digital experts" in your organization are probably experts because they have a great personal interest and are probably driven more by public recognition (leaderboards, praise, attention at the summer conference, etc.) than by making money from their engagement.
This does not mean that there should not be any form of bonus program linked to such a project, but it is often better to celebrate success publicly, properly, and to really have fun than to transfer money to an account.
Social media advocacy tools, such as Sociabble, Smarp, Everyone Social, and Amplify (Hootsuite) supply a systematic and organized way to engage employees as brand ambassadors. Often they provide a method of tracking incentives, such as leaderboards or points awarded for sharing content, that allow you to offer rewards or recognition to your employees who participate in helping to share your messages.
Feedback and risk management
To "let the team loose" with the company marketing can, for many of us, feel extremely challenging. Who is in control and is it really suitable?
I hope that I, with this article, have managed to convey why it is suitable, not to say extremely important, that you as a company invest in a proper employee advocacy or ambassador program. And regarding control, it has been said that what is most important is no longer to do things right, but to make mistakes quickly and learn from what happened and to constantly improve.
Because things will go wrong, and when they do, it is important to have a thorough communication plan to solve a crisis when it occurs. In such a situation, to summarize, it is important to be available and to address the incident as soon as possible, to communicate, even if you have no real information to communicate. In that case, communicate when you think you will have that information available and come back later. When you have a solution or a response regarding the incident, base the communication on your values, show empathy, and decisiveness that signals that what has occurred will not happen again.
Read more: Six Crisis Communication Tips: Are You Ready for the Worst?
Lastly, regarding internal feedback to the management team and other parts of the organization, it is important to have a clear plan for how it should look and at what intervals it should be communicated. With support from the KPIs mentioned above you should have a good foundation.
How effective are your company's multichannel marketing efforts?
Is digital marketing part of your DNA? Or is it taking a back seat? How can you grow your efforts? Finding out where you stand is the first step.
Want more like this? Subscribe to series >
---
Fredrik Holmboe is Senior Digital Strategist and Head of Inbound and Content Marketing at UP. He has an educational background in neuroscience and philosophy, sprinkled with quantum physics and computational neuroscience, today called artificial intelligence. The goal was first to go into research in neuroplasticity, but having worked in sales since the age of 17, the natural continuation was the pharmaceutical industry. Fredrik has worked for companies such as Janssen, Biogen, Novartis, and Bayer.